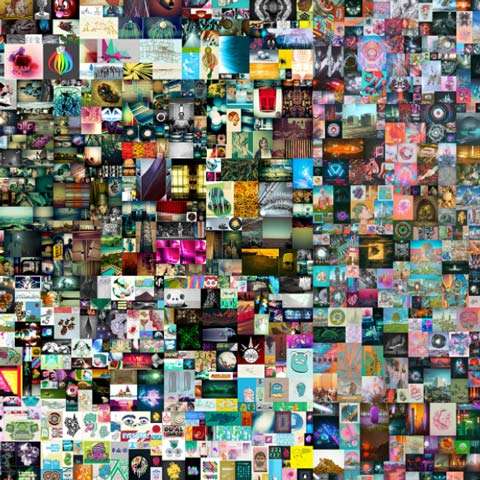 Jeff Koons
David Hockney
Beeple
"Rabbit"
"Pool with Two Figures"
"Everydays: the First 5000 Days"
2019
2018
2021
Christie's
Christie's
Christie's
$ 91,075,000
$ 90,312,500
$ 69,346,250
If you don't understand anything, then you get it right.
Since March 11, 2021, from the third step of the pedestal of the most expensive living artists, we see not the mastodon Gerhard Richter, but a young guy of forty with the face of Garik "Bulldog" Kharlamov. His name is Mike Winkelmann. The son of an electrician and a social worker from a small town in Wisconsin. Formerly an IT guy and web designer. And now the famous artist Beeple.
Haven't you heard before?
Well, have we heard much about NFT tokens before? What about the Nifty Gateway marketplace?
That's okay. We'll catch up.
We overslept a lot. The artist Beeple didn't just pop out of the box. He has been popular in the West for several years. Images of Winkelmann's work were used in his collection by the fashion house Louis Vuitton. Digital clips from Beeple have been included in his projects by Eminem and Justin Bieber. He has long been a star of American Instagram-culture. And price records are no longer new to him. Beeple's digital works have previously been sold for a hundred thousand dollars and six million. Both in the form of tokens and in the form of files. So the sale at Christie's became a sensation only because of the stunning price of the hammer and the high prestige of the place.
What is the artist Beeple talking about with the audience? It will be difficult for us here. The most resonant of his works can be described as absurd scenes and cartoons, made with a high degree of detail. In his works, naked Trump boxing in the ring with naked Biden, a girl in love rips off the head of an unfortunate astronaut, shaved teenagers milk Mickey Mouse, and the Marines shoot back from a monster in a Guy Fawkes mask with a bitcoin logo on his chest. For us it will look outlandish and incomprehensible. And Beeple's home has two huge TVs running around the clock with rival American news channels. That's where he gets his inspiration. Therefore, we will not fully understand his stories without knowing the context. I cannot argue the position that Winkelmann's works are a real breakthrough in art. Trump cartoons are unlikely to be made for eternity. On the other hand, denying the emergence of the phenomenon is also kind of silly. As coach Valery Karpin used to say: "The score is on the scoreboard". And in the case of Beeple, this score is immediately nine-digit.
Now let's move on to the hardest part. How can you interpret what happened? $ 69 million is comparable to the auction records of Rubens and Renoir. In particular, it is more than the auction record of Willem de Kooning. The token issued for a contemporary piece was worth three masterpieces by Soutine or Chagall. It doesn't fit in the head. Then what is it? Some kind of massive manipulation of the investor community like Reddit? Does not look like.
And in general, no conspiracy theory seems convincing yet. Let's say someone wanted to "legalize" their cryptocurrency "ethers". He bought an art token for them at a reputable auction. But what to do next with this token? To re-exhibit at auction in five years and sell more expensive for dollars? Also some kind of nonsense. Why such difficulties? Wouldn't it have been better to convert the crypto immediately into old-fashioned fiat dollars or euros? Whoever says anything, it can be done. Let it be at a bad rate, even with losses — whatever you like, but immediately in dollars. Well, if the buyer suddenly does not believe in the future of the old-fashioned dollars, then let them immediately buy the old-fashioned Monet with them. All in all, the logic does not hold up.
What other hypothesis could there be? Suppose it is an advertising investment in the promotion of a particular artist. In other words, the promotion of Beeple specifically. No doubt, after 69 million Beeple woke up famous even in the third world. But then what? Will his other works automatically be worth millions? No. They won't. That's not how it works. And we have repeatedly observed how the organizers of the "promotion" of artists through auctions are "blown away".
Or maybe this is a promotion for Ethereums that the buyer wants to pay with? Serious crypto for serious transactions? "Solid lord for solid lords"? Everybody believes it anyway. So, we go to the second round. Not a single one hundred percent convincing explanation.
There is one more nuance worth noting. About a year ago, the trading platform Nifty Gateway, on which the artist Beeple set his first records, was bought by the bitcoin billionaire Winklevoss twins. These are the same grasping Harvard twins who sued Zuckerberg over Facebook. The Winklevoss are well-known visionaries who believe cryptocurrency has a great future ahead of it. And a deal through a reputable traditional auction trusted by thousands of collectors is a neat way to accelerate that future. And in terms of PR all succeeded. In fact, since March 11, 2021, art token trading has ceased to be a marginal topic for advanced geeks, but has gone to the masses. Still, Nifty Gateway is one thing, Christie's is another. No wonder the deal with the Beeple token has already been hailed by the press as a manifesto for a new art market, free of the physical medium. Everyone benefited. NFT trading at Christie's was followed by 20 million pairs of glowing eyes. Christie's gained a young audience and solidified its reputation as a progressive auction house. And Winklevoss twins received an instant increase in confidence in the new digital art market — confirmed by blockchain records and purchased for cryptocurrency. The potential of this new market is enormous, and 69 million is not a very high cost to bring the art-token topic to the highest level.
Vladimir Bogdanov, specialist of ArtSale.info auction