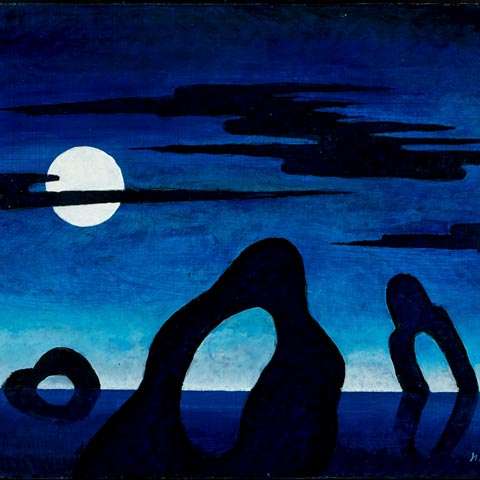 Nikolay Vechtomov (1923–2007) was a nonconformist artist, the creator of an original system of biomorphic cosmism, the artist of the "Lianozovo group", a friend and associate of Rabin and Nemukhin. He and Nemukhin knew each other since 1946; they met immediately after the war at the studies of Perutsky in children's art school (which was attended by the adults). Later, Vechtomov and Nemukhin shared the workshop on Gorky Street. And Vechtomov also introduced Rabin to Nemukhin in 1956. It turns out that the very appearance of the Lianozovo community in the form in which we remember it, we are obliged to Vechtomov. By the way, Nikolay Vechtomov had lived almost all his life in the village of Severny, not far from the Lianozovo station. Now they're building the subway there, but back then it was a place you couldn't get to — in the middle of nowhere. But rather close was a barrack of "Grandpa" — Eugene Kropivnitsky, his wife Olga Potapova and Oskar Rabin with Valentina Kropivnitskaya. Yes, the life was monstrous even by those standards, but a completely different spiritual life. Artists and poets gathered in Lianozovo at weekends, home shows of their works were arranged, visitors came — viewers, collectors, courageous representatives of the creative intelligentsia. It was not some kind of ideological unit (the name "Lianozovo group" was thought up by authorities to emphasize the criminal nature of a gathering of dissenters). Lianozovites were not really interested in plans to overthrow the regime, but in normal, unselfish human communication, exchange of ideas, plus a tiny chance to get a reaction from at least some people in the absence of access to the exhibition halls. In short, it was a breath of fresh air of freedom amidst the smoke of steam engines, garbage dumps, and ramshackle barracks.
Vechtomov was a front-line soldier, a participant of Stalingrad battle, a partisan, twice escaped from a captivity. According to one of versions, it was the front impressions that set the vector for his creativity in peacetime. The vivid burgundy, red and yellow colours, Vechtomov's colour "flashes" in the biomorphic constructions — this is the memory of the outbursts from the war. But there is another, peaceful explanation of Vechtomov's palette and plastics. According to one of the evidences, the artist was struck by the stunningly beautiful glow of clouds (most likely at sunset) and transferred this impression to his art. However, both versions do not contradict each other. And both are striking by the similarity with the nature of Nemukhin's impressionism, where the cards are an impression of a deck submerged in water, and the bright circle in the super elephants is an impression of the setting sun in the landscape by Julius von Klever, seen on a visit to his friends.
Vechtomov is one of the first names of nonconformism. He participated in several historical exhibitions of unofficial art: in "Druzhba" club in 1967, in "Beekeeping" pavilion on VDNKh in 1975. In 1991 his paintings were of course at the exhibition "Other Art" at the Tretyakov Gallery. Today his works are among the hits of Russian auctions, and the army of collectors is growing.
What can buyers in domestic open bidding choose from today? And what prices can they count on? In terms of money, the current situation is as follows:
Biomorphic painting — $ 5,500–10,000. (about 400,000–750,000 rubles). These are the prices at which today you can buy Vechtomov's paintings at domestic auctions. The price varies greatly depending on the size, subject and even palette. For example, rare blue "space" landscapes, structures in space can cost more. There are paintings that shine like Kuindzhi's lunar track. To buy such is a stroke of luck. If today a biomorphic blue Vechtomov hit the market, and even a meter in size, then do not be surprised if the price will go to the region of $ 15,000 dollars — well over a million rubles. But despite the high price of the "admission ticket", it is Vechtomov's large painting that is the most promising area for investment. And reselling a painting of a million class will be easier than the budget graphics for 30,000 rubles.


 
Large graphics — $ 2,700–4,000. (200,000–300,000 rubles at the current exchange rate). It is a biomorphic graphics. Not to be confused with the figurative landscapes by Vechtomov, which are also abundant on the market. Landscapes are inexpensive, but they lack investment potential. Collectors value the surreal structures, not anything else. They are capable of growing in value at a rate inferior only to painting.




 
Small biomorphic drawings — 40,000–50,000 rubles. We are talking about pencil works and felt-tip drawings of the class size 15 × 10 or 20 × 15. They are interior, absolutely recognizable and stylish. To hang on the wall at home is a super option! But in terms of investment it is better to do without inflated expectations.


 
What can be said about the outlook for price growth? The forecast is conservative. Vechtomov is not among the underestimated artists, he is firmly in the market, so an explosive jump in prices should not be expected. Rather, Vechtomov will rise in price systematically, together with the entire market of the first names of unofficial art: at the average rate of 15–20% per year, if everything goes as it is today. The only thing we can say for sure is that the best (that is, the most expensive) works will rise in price the fastest. Hence, a smart tactic for an investor is to concentrate the budget and hunt primarily for large paintings with vibrant palettes and valuable biomorphic subjects.
What else is important. With Vechtomov, increased vigilance in terms of authenticity is required. The artist is being forged. This means — no purchases from dubious places, no trust in fantasy provenances, and expertise is required. And if there is no paper at all, it is necessary to make a new expert report with Valery Silaev. In general, everything is as usual.
One last thing. Do not miss the moment. Today, works by Vechtomov regularly appear at auctions. And you may get the feeling that there are so many of them and you can choose endlessly. I think such feeling is mistaken. This has happened many times. With Nemukhin, with Belenok, and with many others. There seemed to be lots and lots of everything, and then bang — and the time is gone, there is a shortage. So my advice: if you see a good thing — fight and do not delay. It's not terrible to overpay for high-class work. And even more so to buy at a good price — there is nothing to talk about.
Vladimir Bogdanov, specialist of ArtSale.info auction
Watch also a video review on investing in the works of Nikolay Vechtomov on our YouTube channel: