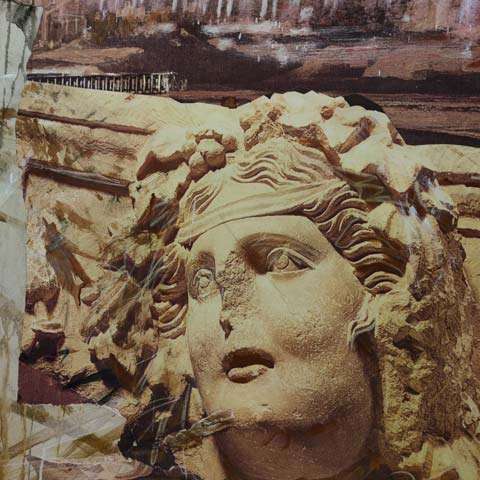 CONTEMPORARY ART
KOSHLYAKOV Valery Nikolaevich (1962) Dionysos-Dushara. 2000. Canvas, collage, see v. 145 × 125
Thirty years ago, Valery Koshlyakov, together with Avdey Ter-Oganyan, were associates in the "Art or Death" partnership. The artists lived, worked and organized exhibitions in the legendary squat on Trekhprudny Lane. Today, Valery Koshlyakov is already a classic of contemporary Russian art. He lives and works in Paris. And auction prices for some of his works are approaching $ 150,000. In particular, in 2008 at Sotheby's, his two-meter painting "Versailles" was sold for $ 147,000.
Koshlyakov's favorite and most recognizable subjects are architectural monuments that recall the rise and fall of civilizations. These are antique subjects, admiration for the beauty, touched by time. And, of course, Koshlyakov always uses complex techniques — collage, sometimes with deliberately short-lived materials like duct tape and corrugated cardboard. Koshlyakov is monumental even in small works. But his true element is canvases of gigantic size, to the delight of those collectors who have large exposition areas.
Our work is also large, almost one and a half meters high. Its centerpiece is a bas-relief with the head of the god Dionysos-Dushara, the one that is now in the American Metropolitan Museum. The birthplace of the bas-relief is the city of Petra, on the territory of modern Jordan. And two thousand years ago, this city was the capital of Nabatea — the Nabataean kingdom, created by one of the Arab nations. The state was located in the territory of modern Syria, Jordan and Israel. It was rich, with a developed culture. Even before the arrival of the Romans, it was a melting pot of cultures. Dushara was the supreme deity of the Arab tribe, in terms of competence, somewhere in the middle between Dionysos, or Bacchus, and Zeus. The bas-relief was created about two thousand years ago. It was part of a sacred gateway. And conspiracy theorists are still arguing who could have made such a beauty with the technology of that level. They blame, as is often the case, on aliens.
1960s UNOFFICIAL ART
RUKHIN Evgeny Lvovich (1943–1976) Composition with an icon. 1972. Oil on wood, cloth, mixed media. 49.8 × 70.2
In his expert opinion, Valery Silaev notes that in this work Rukhin not only uses the proprietary method of collage with scraps of fabric, but also applies the cracking of material using a technique borrowed from Dmitry Plavinsky. This, however, is not the main point. Rukhin's composition is built around an image of an icon assembled from rags. The seventies were a time of intense spiritual search among the intelligentsia. Issues of faith were discussed in their circle, and many saw in Orthodoxy a form of resistance to hypocrisy and ideological propaganda.
Evgeny Rukhin is a legend of nonconformist art. The artist died at age 32 in a workshop fire under suspicious circumstances in 1976.
SVESHNIKOV Boris Petrovich (1927–1998) A shadow on the swamp. 1960–1970s. Oil on canvas. 70 × 50
Very beautiful Sveshnikov in a rare brown and green tones. The work is mystical, not gloomy and even optimistic by Sveshnikov's standards. A path, a trace and a shadow on a marsh. The painting was once purchased by an American diplomat, taken out of the USSR and now returned to Russia.
2021 was phenomenally successful for the owners of Sveshnikov's paintings. The prices for his works have grown 1.5–2 times.
ZVEREV Anatoly Timofeevich (1931–1986) Forest (blue and green). 1984. Oil on hardboard. 53 × 29.5
Zverev's landscapes — natural and fantasy — are one of the most liquid themes in the artist's work. Before us is an emotional, impetuous painting — pastose, volumetric, powerful. This is 1984, but the undoubted creative success. Expert Valery Silaev notes that the painting is executed at a high artistic level, like the famous early works of the artist.
VULOKH Igor Alexandrovich (1938–2012) Horizontals. 1975. Oil on canvas. 90 × 73
We have before us a white period of Vulokh, one of the most valuable, which collectors hunt for. 1975. And the unusual title is "Horizontals". Usually Vulokh's works, which appear to the uninitiated as abstractions, have a disguised figurative basis. They are often landscapes. But here the title is abstract — "Horizontals". The work is textural, three-dimensional and coloristically complex. It's not pure white. It is tonal white. There's a note of green on top, a note of pink on the bottom. This kind of piece needs good light. And a live viewer. It's not going to be easy to convey the impression of this painting in a photo.
NEMUKHIN Vladimir Nikolaevich (1925–2016) Jack of the Casino. 2011. Canvas, acrylic, collage. 80 × 60
Please note — this is a canvas. And one of Vladimir Nemukhin's favorite themes. Jack, casino, a character with a top hat and, of course, cards. 2011. Expert Valery Silaev notes that the painting may have museum value.
RUSSIAN ABROAD
ERTE (Tyrtov, Roman Petrovich) (1892–1990) The Paris World's Fair of 1900. Sketch of the setting for the musical revue "Flying Colors". 1966. Cardboard, gouache. 50 × 81.5
Erte is a pseudonym derived from the initials "R.T." — Roman Tyrtov. The artist took it so as not to "disgrace" the noble family, where all men followed the military path. And instead of serving, Erte became a correspondent for fashion magazines. And then he became an artist for Cosmopolitan, Harper's Bazaar and other magazines. He made their covers and illustrations. Since 1925, Erte worked in Hollywood, he had a contract with Metro-Goldwyn-Mayer Studios — he created sets and designed costumes for Hollywood stars.
This gouache was made for a production that took place in Canada in 1967 and was timed to coincide with the Montreal World's Fair. And it refers to the famous World's Fair in Paris in 1900. A brilliant example of Art Deco.
RUSSIAN CLASSICS
VOLOSHIN Maximilian Alexandrovich (1877–1932) Crimea. 1928. Watercolor on paper. 12 × 23
A classic, recognizable, Crimean cabinet watercolor by Maximilian Voloshin. Subtle, romantic, signed and with dedicatory inscription. Voloshin is called the founder of the Cimmerian school of painting. The landscapes he created were usually painted not from nature but from memory. His watercolors are almost always small sized. This was done on purpose. Voloshin advocated for art to be convenient for ordinary people, in ordinary houses. Not for palaces.
CONTEMPORARY ART
KAWARGA Dmitry (1972) Winter 2021. From the series "Archiving the Posthuman Compost". 2021. Polymers, 3D printing, epoxy resin. 25.5 × 26 × 3.5
A chambery, deep, three-dimensional composition of the "biomorphic radical" Dmitry Kawarga. The main theme of his work is resistance to the diktat imposed by modern civilization. This is not only about the fact that a self-centered humanity, cultivating an egoistic and consumerist attitude toward nature, is firmly on a self-destructive trajectory. But also that modern societies love to selflessly establish rules, restrictions, create hierarchies and algorithms. We are taught that the soft and hard suppression of freedoms and "otherness" makes the world manageable, and therefore safer. But when it becomes clear that this is an illusion, it will be too late. Perhaps a return to chaos, which is presented as a threat, on the contrary, is salvation and a healthy defensive reaction of the biological species.