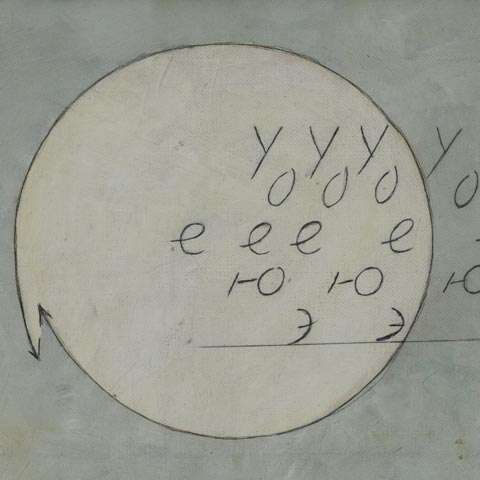 1960s UNOFFICIAL ART
NEMUKHIN Vladimir Nikolaevich (1931–2016) The Moon with Letters. 2011. Canvas, acrylic, graphite pencil, collage. 70 × 60
"The Moon with Letters" is an uncommon, conceptual subject in the work of the sixties artist Vladimir Nemukhin. We are used to lombard tables and jacks. But here the moon, and also strange syllables. We can assume that this is a dialogue with Velimir Khlebnikov, a reference to the poetry of the Russian avant-garde. Vladimir Nemukhin is an artist of the second Russian avant-garde, a representative of the Lianozovo group, a participant of the Bulldozer exhibition. The work is accompanied by an expert opinion by Valery Silaev.
VULOKH Igor Alexandrovich (1938–2012) Autumn. 1964. Gouache on paper, mixed media. 98 × 68
A meter drawing of a particularly valuable period — 1964. This is not an abstraction. Vulokh did not like that definition. It is a landscape in the genre of meditative conventionality and with a quite figurative title — "Autumn". Hence these kinks, like on fallen maple leaves, overcast skies and humid air. It is a fantastically beautiful work. The works of Vulokh are in the collections of the country's major museums and important private collections, including those of the Semenikhins, Alshibai, Kurtzer, and others.
KUPER Yuri Leonidovich (1940) Flower. Canvas, oil. 33 × 41
A flower in the soft glow of sfumato is the "calling card" of the sixties artist Yuri Kuper. His still lifes with a fantastic volume effect from afar look like reliefs or installations. At first one cannot even believe that Kuper manages to create this little magic within the confines of the canvas. An artist of unofficial art, Kuper has always stayed away from the conceptualist quest. He remained an artist of the old school, and his favorite authors were Leonardo, Fra Angelico, and Titian. Kuper left the USSR in 1972. He worked in England, France, and America. Last years he spends most of his time in Russia. Makes theatrical scenography, creates architectural projects for the construction of cult buildings, works in the genre of painting, graphics and sculpture. Let me remind his admirers that until March 20, 2022, his large exhibition "Experiences" is being held in the exhibition halls of ROSIZO in Petroverigsky Lane.
ORLOV Boris Konstantinovich (1941) Still higher!!! 1989. Paper, gouache, pencil. 80 × 60
"Still higher!!!" is the very recognizable grotesque absurdist construction of the sixties artist Boris Orlov. He calls himself a "political artist" and even an "imperial artist". His trademark original technique is the juggling of social heraldry. Position, orders and ranks are more important than figures and faces. People in Orlov's constructions are not the authors of actions, but the sources of manifestations of social statuses and roles.
ZVEREV Anatoly Timofeevich (1931–1986) Portrait of Svetlana Pravova. 1986. Oil on cardboard. 49 × 39.5
Anatoly Zverev's Swan Song. 1986. An inspired series of his portraits by Svetlana Pravova was published in 1991 in the album "Anatoly Zverev. Painting. Graphics", the articles for which were written by Sergey Kuskov, Galina Manevich and Igor Dudinsky. Our portrait in particular is reproduced on page 95. A rare opportunity for collectors to purchase a published piece.
SVESHNIKOV Boris Petrovich (1927–1998) April grave. 1989. Oil on canvas. 82 × 70
Sveshnikov in all his glory. The uncompromising infernal plot structure and the requiem title are without any qualifiers. Boris Petrovich brought his special vision of the world from the Stalinist camp, where he ended up as a student and where he was more than once on the verge of death from illness and overwork. But he survived and made a huge contribution to post-war Russian art.
KHVOSTENKO Alexey Lvovich (1940–2004) Composition. 1996. Paper on cardboard, collage, mixed media. 49.5 × 70
This is a legend of unofficial culture. Once Alexey Khvostenko, nicknamed Khvost, put the poems of his friend Henri Volokhonsky to music by Vladimir Vavilov, and the song «Golden City» came out. At first it was sung by Khvostenko himself, and later it became famous in the performance of Boris Grebenshchikov in the movie "Assa". In Soviet times Khvost was a samizdat poet. In 1977 he emigrated to France. There he published, was engaged in fine arts. His abstract compositions are infrequent guests at auctions. At our auction, the work of this author is presented for the first time.
VASILIEV-MON Yuri Vasilievich (1925–1990) Movement. Whirlwind. 1972. Canvas on cardboard, oil, see t. 50 × 69
In Germany, having the surname Müller is like having no surname at all. That is why the artist Yuri Vasiliev signed his works MON. His friend Bulat Okudzhava dedicated a song to him, "Painters, dip your brushes", which is played in the movie "Pokrovsky Gates". As a theater artist, Mon worked with Lyubimov at the Taganka Theater. In particular, it was he who was the director of the avant-garde performance "Pugachev", where Vysotsky played Khlopusha. And in 1980, it was Yuri Vasiliev who was asked to make the posthumous mask of Vysotsky.
Mon was close to the circle of nonconformists, and for some time was even considered a disciple of Evgeny Kropivnitsky of the Lianozovo group. Despite the fact that he was a member of the Moscow Union of Artists and a member of the CPSU, his art was absolutely far from socialist realism. His painting "Movement. Whirlwind" participated in the exhibition "Moscow Underground. Abstract painting of the 60s from the collection of Alexander Reznikov" in Venice in 2012. It is published in the catalog on page 129.
CONTEMPORARY ART
PEPPERSHTEIN Pavel (1966) Suprematist pastoral. Service of 7 pieces. 2010. Porcelain, overglaze painting
The son of the conceptualist Viktor Pivovarov founded the art group "Inspection Medical Hermeneutics" with Sergey Anufriev and Yuri Leiderman in the late 1980s. Pepperstein and Anufriev wrote the highly successful psychedelic novel "Mythogenic Love of Castes" with the hallucinating party organizer Dunayev, Baba Yaga, and others. At various times Pavel Pepperstein has tried on the roles of a rapper, a "paper architect" and even a fashion designer with a line of women's dresses of his own design. In 2014, his sharply critical project "Holy Politics" won the Kandinsky Prize. In the same year, Pepperstein produced the avant-garde porcelain "Suprematist pastoral". Our copy belongs to the author's additional edition.
RUSSIAN ABROAD
BURLIUK David Davidovich (1882–1967) Labyrinth of the Minotaur. Canvas on cardboard, oil. 25.5 × 20.5
A rare subject for Burliuk is a symbolic reference to an ancient Greek legend. The bull-headed monster lived in a specially built labyrinth and devoured the young men and women thrown to him for food. These atrocities were put an end to by Theseus, who killed the Minotaur and got out of the labyrinth thanks to the thread of Ariadne.