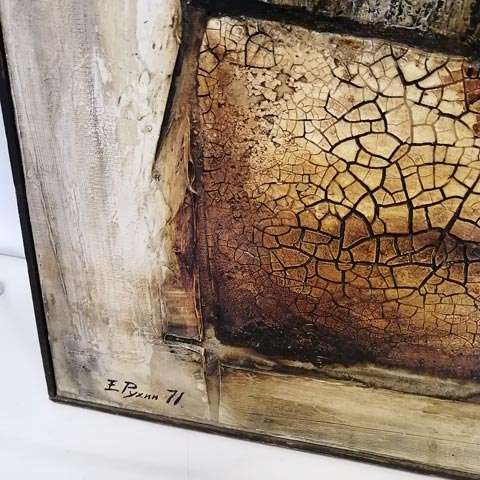 MASTERPIECES
RUKHIN Evgeny Lvovich (1943–1976) Untitled. 1971. Canvas, mixed technique. 70 × 66.5
Evgeny Rukhin is a legend of nonconformism. He is one of those uncomfortable and brave "rioters", whom the authorities did not like very much. They preferred to be feared and kept their heads down. But Rukhin demanded, defended, disagreed. And he was not afraid. In the early 1960s, pop-art star James Rosenquist, whom Rukhin defiantly invited to the USSR, came to visit him. Not to Khrushchev and not to the Union of Artists, but to the self-taught Leningrad artist. Already in 1966, Rukhin, outrageously bypassing official channels, held an exhibition in the United States. And in 1974, Rukhin, one of the few St. Petersburg artists, participated in the Bulldozer exhibition on the wasteland in Belyaevo. He was beaten, dragged through the mud and arrested, along with Rabin and other artist friends. But obstacles and intrigues did not stop Rukhin. He continued to fight for the right to work freely, developed a boisterous unofficial activity in Leningrad and became a real bone in the throat with the authorities. This is why so many refuse to consider his death in a fire in his studio in 1976 as an accident. Rukhin was only 32 years old. Friends-artists decided to honor his memory with an exhibition. They did not ask permission, and it is clear that they would not be allowed. Therefore, on the appointed day, visitors to the northern capital could observe a strange scene: the police grabbed everyone who was walking down the street with a painting, suspecting them of participating in an illegal exhibition. As a result, only Bob Koshelokhov is said to have made it to the venue. He had a hospital duck assemblage in his hand and did not arouse suspicion. True or not, Rukhin would certainly have liked such a turnaround.
The abstraction presented at our auction is the work of the most valuable period, which began with the artist at the end of 1968. Evgeny Rukhin was helped to find the right technology by his friend Vladimir Nemukhin: he taught him a special way to fill in the backgrounds, as well as taught him some other tricks. Rukhin did not attend an art institute (nor did Nemukhin himself). He studied art from books, reproductions, and, of course, in museums. In fact, his main teachers were his Moscow friends from the Lianozovo group — Rabin and Nemukhin. Our painting has been shown many times at exhibitions in Russia and abroad. In particular, in 2012 it was shown at the exhibition "Moscow Underground" in Venice. It is published in the catalog.
YAKOVLEV Vladimir Igorevich (1934–1998) Two white flowers on a red background. 1969. Paper on hardboard, gouache. 46.5 × 35.5
An exemplary, inspired Yakovlev of a valuable period — the late 1960s. His flowers are special, psychological. It is no coincidence that connoisseurs note that Yakovlev painted not still lifes, but portraits of flowers. Once such gouaches hung in many apartments of the Russian intelligentsia. Scientists, musicians. What was then worth 15 rubles, today can cost more than a million. A friend of Vladimir Yakovlev, the artist Mikhail Grobman, said that sometimes Yakovlev gave his work for a while, without money, just to hang. For example, if a person wasn't sure. But when someone started to live with that picture, he was no longer able to part with it and invariably bought it back. Yakovlev is another tragic figure of Russian nonconformism. He suffered from mental illness from his youth, spent many years in mental hospitals and nursing homes, and in the 1990s, at the end of his life, he became completely blind. But his flowers, even 50 years after their creation, do not wither and continue to delight collectors.
1960s UNOFFICIAL ART
CHEMIAKINE Mikhail Mikhailovich (1943) "Shadows" from the cycle "Carnivals of St. Petersburg". 1994. Serigraphy. Paper. 106.5 × 104.3
In 1971, Mikhail Chemiakine was forced to leave the USSR and was deprived of Soviet citizenship. This was preceded by many years of bullying. He was kicked out of the institute, his exhibitions were banned, and the artist himself was considered a dauber in need of compulsory treatment in an insane asylum. Chemiakine was forced to work as a postman and a loader to avoid prosecution for loitering. Beating up one's own people was a favorite pastime of the Soviet regime. After several years of hard work in France, Chemiakine received international recognition. His exhibitions were successful in Europe and the United States. After perestroika, the artist returned to Russia.
"Carnivals of St. Petersburg" is one of Chemiakine's most famous cycles. Serigraphy (from the Latin "serikus" — silk) is a type of printmaking, a type of screen printing for the creation of circulation graphics. It is often called "silkscreen printing". Because it uses a silk screen to make the print. Warhol's famous series of portraits of Marilyn Monroe, in particular, is a serigraphy. But these are all nuances. And what is important for us to know is that this technology allows us to achieve perfect quality on paper — with texture, volume. It is no coincidence that this sheet is interesting to look at in oblique rays — a very special feeling. The sheet contains the original signature and is accompanied by a certificate of authenticity from the Mikhail Chemiakine Foundation.
GROSITSKY Andrey Borisovich (1934–2017) Portrait of a shovel. 2004. Wood (chipboard), oil, mixed technique. 70 × 62
Not just "Shovel", but exactly "Portrait of a Shovel". No wonder the 1960s artist Andrey Grositsky was nicknamed "the poet of things". Meat grinders, rusty latches — ordinary household items seemed to come to life in his works. His first important exhibition was a resonant exhibition of unofficial art in the pavilion "House of Culture" at VDNKh in 1975. Soon his home became a "gorkom" — a hall on Malaya Gruzinskaya Street, an area free from the dictates of socialist realism, where independent artists were allowed to exhibit. Grositsky was lucky to live up to full recognition. He had an exhibition at the Tretyakov Gallery and an important retrospective at the Museum of Moscow in 2015. Today he is one of the most sought-after artists. Collectors invariably vie for his reliefs. And so it will be this time. A portrait of a shovel mounted on the door of a kitchen set is an exemplary, very distinctive piece.
ZVEREV Anatoly Timofeevich (1931–1986) People in the boat (The Ark). 1986. Oil on hardboard. 69 × 121
This is Zverev in 1986, the last year of the artist's life, when he lived and worked in the apartment of his friend Viktor Kazarin. At that time they had a cycle of joint works by Zverev-Kazarin, which were painted together and had two signatures on them. But these, as a rule, were large paintings — about one and a half meters. And the meter ones Zverev painted himself. This is one of those, an independent Zverev painting, but in the recognizable style of the workshop on Malakhitovaya Street. The work is accompanied by the expertise of Valery Silaev.
KUPER Yuri Leonidovich (1940) Spatula. 1993. Assemblage, oil, mixed technique. 29 × 24
Such flat assemblages are the "calling card" of Yuri Kuper. A sixties man, an aesthete, an artist of the old school. His favorite authors are Leonardo, Fra Angelico and Titian. Kuper is truly a Renaissance master. He writes poetry, makes scenography, and designs the interiors of theaters, churches, and synagogues.
Kuper was one of the first to leave the USSR, in 1972. He worked in France and America. 1993, when this work was created, is probably still the French period. However, in recent years, Kuper has spent almost all of his time in Russia. Here he is quite popular. In particular, he has designed the facade and interior of the Voronezh Theater, the project of the new Sretensky Monastery, the project of the synagogue in Perm and the curtain for the Mariinsky Theater.
Kuper's "Spatula" is a fine, aesthetic piece. Decoration. And it's not without philosophical meanings. At the very least, it's a conversation about "the smells of crafts", where "the painter smells like turpentine and paint" and "only a loafer does not smell in any way".
RUSSIAN ABROAD
YAKOVLEV Alexander Evgenievich (1887–1938) Artist and Muse. 1926–1930. Gouache on paper. 49 × 64 (in light)
Alexander Yakovlev is one of the most expensive Russian artists. His auction record was set at Christie's in 2007, when a portrait of his friend Vasily Shukhaev was sold for $ 5.5 million.
Today Yakovlev is considered to be one of the main figures of Russian Neoclassicism. Alexander Yakovlev was a member of the "World of Art" since 1912 and exhibited a lot. The revolution caught him on a creative trip to the East, in China. The artist decided not to return home and moved to France. There he received wide popularity, thanks to the cooperation with the company «Citroen». Yakovlev became their faithful artist-reporter on automobile expeditions across Africa and Asia. And at the end of the tour his exhibitions were held in Paris.
"Artist and Muse" is a modernist gouache from the late 1920s. The authenticity is confirmed by the expert opinion of the Grabar Center. The expert is Olga Glebova.