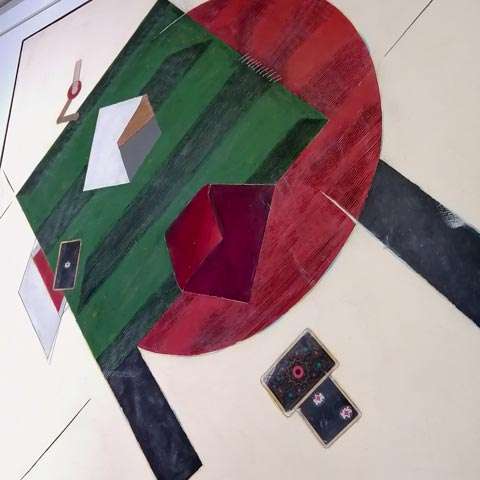 MASTERPIECES
NEMUKHIN Vladimir Nikolaevich (1925–2016) Composition with a red circle. 1997. Canvas, acrylic, collage. 100 × 100
Nemukhin of museum significance. Meter size. Valuable subject. 1997 — almost a quarter of a century ago. And there is one more feature, but about it later. Vladimir Nemukhin deeply understood and appreciated the Russian avant-garde. And often entered into an extramural dialogue with its masters. In particular, in this composition, experts see Nemukhin's conversation with El Lissitzky and polemic in the territory of Suprematism. At the same time, the original symbols of Nemukhin's card theme are harmoniously woven into the composition: a part of a deck, a card table, a candlestick. There are several known similar compositions by Nemukhin, some earlier and some later. But all the others were less bright. The circle on them was brown or beige. This one is red! Like the circle of a super elephant. Like Klever's sun. This immediately catches the eye of connoisseurs of Vladimir Nemukhin's work. The painting has an impeccable provenance, comes from a family and is accompanied by a detailed expert opinion by Valery Silaev.
ZVEREV Anatoly Timofeevich (1931–1986) Portrait of the poet Arseny Sedugin. 1983. Wood (tabletop), oil. 96 × 98
A meter long painting by Anatoly Zverev is done on a tabletop. It was punched in two places before becoming the basis of the painting. One of the holes was painted by Zverev with the sun.
The good-natured old man with a pipe is Zverev's friend, a front-line soldier, poet and children's writer Arseny Alexandrovich Sedugin (1925–2006). He is the author of almost forty children's books. Among the most famous are the collection of stories "Vika and Alik" and "Hamster on a Walk". Sedugin was a great humanist. He believed that art should be filled with compassion for man. He believed that all our troubles, especially during perestroika, stem from the fact that people stopped trusting each other. Among his utopian ideas of perestroika times was an appeal to all citizens of the country to put a ruble on the doorstep so that those in need could take for medicine or food. In this he saw a real way to save others. In the nineties no one responded to his call. As well as the proposal to the deputies of the Moscow City Council to pick up brooms and clean up trash on the Garden Ring. On the contrary, they tried to make him look like an urban madman for his ideas of caring for the welfare of the others.
Not surprisingly, Sedugin and the persecuted Zverev were linked by long years of friendship. Under the influence of Anatoly Timofeevich, he himself took up the brush. They also had joint works. But this work is independent — Zverev's. The phrase "museum level" here should be understood literally. The work participated in and was published in the catalog of the famous exhibition "Artists of Freedom: Zverev and Yakovlev" at the Nashchokin House in 2011. The work is accompanied by Valery Silaev's acknowledgement on the back of the photo.
1960s UNOFFICIAL ART
ZVEREV Anatoly Timofeevich (1931–1986) Young pines. Sokolniki. Second half of the 1950s. Watercolor, powder on paper. 29 × 40
This is a drawing from Natalia Sinelnikova's Nonconformists. It comes from the famous Flegontova collection. In front of us is a young, full of strength Zverev of the late 1950s. With courage, with mood, with virtuoso movement. He used simple watercolors, water from a puddle, powder, even salt — anything. Silaev notes not just the uniqueness of this work, but the spectacular result.
ZELENINE Edouard Leonidovitch (1938–2002) Church in Suzdal with a stripe (Girl with a rose). 1990s. Oil on canvas. 100 × 100
Zelenine was advised to move to Moscow from Novokuznetsk by Ernst Neizvestny. Soon Zelenine joined the circle of artists from the intellectual underground. He would exhibit in the Blue Bird café and at art shows in apartments. He was a "self-nominated" at the Bulldozer exhibition (on his own initiative, he brought a painting), then participated in the Izmailovo exhibition. He was scolded in "The Evening Moscow" for his "primitive" depiction of the Intercession Cathedral in Suzdal (which is also in our picture, by the way). The newspaper wrote of the Izmailovo exhibition that "The modernists were taken out into the public eye, and they exposed themselves in all their squalor, because the works of the modernists did not look serious as a phenomenon of art. When you analyze most of the works, you involuntarily come to a conclusion about the spiritual crisis of their authors, or rather, their certain intention, which is dictated by a hostile attitude to reality and to Russian national culture".
In 1976, Zelenine emigrated to France. But he did not achieve much success in exile. The artist did not live 8–10 years before the return of interest in his art and new exhibitions. Zelenine took a lethal dose of sleeping pills in 2002, at the age of 64. He did not see how in 2010, his canvas "Leida with an Apple" was sold at the world's leading auction for $ 45,000. Didn't see any new exhibitions or catalogs.
"Church in Suzdal with a stripe", or "Girl with a rose", is one of the most famous subjects in Zelenine's work. One of the most recognizable. He first addressed this subject in 1972, and that work can be found in his monograph. And in front of us is a great author's repetition, made already in the 1990s.
1970s UNOFFICIAL ART
BASHENIN Valery Viktorovich (1943) Branch. 2005. Oil on canvas. 80 × 120
Valery Bashenin was a pupil of Mikhail Schwartzman, the famous nonconformist and inventor of the concept of "hieratism" (from the Greek hieros — sacred). Schwartzman was his godfather. For three years, before he left his mentor, Bashenin was part of his inner circle.
Almost half a century has passed since then. Valery Bashenin became an honored artist of Russia, his paintings were exhibited at Sotheby's. And in 2012, they were presented at an exhibition at the Russian Museum as part of the project "Mikhail Schwartzman and his students at the Russian Museum".
It is interesting to dissect Bashenin's works into metaphors. But he himself is first and foremost an artist of emotions. That is what Schwartzman taught: "Emotions can outstrip the head. Watch your hand. If a fragment "lives", leave it".
"Branch" is a large, classic and very recognizable work by Bashenin. Exactly museum level. It has everything for which it is appreciated. Bashenin's entire system of archetypes is represented. The artist said: "The animals on my canvases are not animals in the usual sense, but prototypes, the so-called archetypes. Without surname, name, patronymic. Birds, trees, fish, flowers, houses — these are collective images that live in me. And any resemblance here is accidental".
KUDRYASHOV Oleg Alekseevich (1932) Counter-relief 287–214. 1982–1983. Counter-relief, ink on paper. 42 × 31 × 19.5
In the case of Oleg Kudryashov there is nothing surprising in the inscription "Circulation 1 of 1": etchings, which are often the basis of his compositions, are usually unique. The artist makes changes so that the print is not repeated. And the compositions usually have no names. The numbers with which we denote them are, strictly speaking, the number of the board from which the base was printed.
Oleg Kudryashov is a man of the seventies, an innovative artist who belongs to the nonconformist culture, but who was not a member of well-known groups. For more than twenty years, Kudryashov worked in England. He emigrated in 1974 and returned to Russia only in 1997. In the Soviet Union, he worked at Soyuzmultfilm for some time. But he was not allowed to exhibit as an independent artist. In one interview, he told how some former member of Chapaev's unit, who became a boss, kicked him out of the offset workshop, because he did not understand what he was doing. Before leaving the USSR, Kudryashov was forced to burn thousands of his works. By the way, he burned them in the studio of his friend, the famous sculptor Andrey Krasulin (there was a former boiler room). Kudryashov was not allowed to take anything with him into exile. Kudryashov left for Europe with only his Moscow metal scissors. Only the few works taken by the Pushkin Museum and those given to friends survived.
Many monographs have been published about Kudryashov, both in Russia and abroad. In 2017, art historian Yuri Petukhov made a large monograph-album about the work of Oleg Kudryashov. The artist was still healthy at the time, gladly signed the circulation and was present at the impromptu exhibition.
Today, Kudryashov's works are represented in the collections of the main museums of the country (Pushkin Museum, Tretyakov Gallery, etc.), a number of museums in the United States and Britain, as well as in well-known private collections (Alexander Reznikov's and others).
RUSSIAN ABROAD
BURLIUK David Davidovich (1882–1967) Bouquet on the shore. 1960. Oil on canvas. 41 × 31
This is the late American Burliuk. His recollection of a trip to France. Beautiful, recognizable work done on canvas.