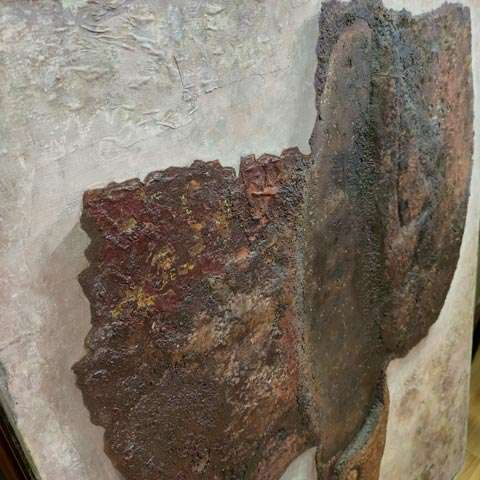 MASTERPIECES
GROSITSKY Andrey Borisovich (1934–2017) Shovel as an object. 2006. Oil on canvas, author's technique. 133 × 100
Andrei Grositsky's works are the hits of our auctions. The paintings of the metaphysician of the subject world are of growing interest to collectors. No wonder. Works of such a high level appear on the market that eyes widen. And here is another indisputable masterpiece. One of Grositsky's favorite subjects. He didn't just call them "Shovel" but "Portrait of a Shovel". As if we speak not about an instrument but about an animate object covered with scars and wrinkles of labour.
We have a separate video about the poet of things Andrey Grositsky on our YouTube channel. But let's repeat it briefly. He is the creator of special "animate" reliefs inspired by shovels, rusty latches and pieces of metal. A 1960s artist of "other art", he participated in an exhibition at the "House of Culture" at VDNKh in 1975, and since 1976 he regularly exhibited at the city committee at 28, Malaya Gruzinskaya Street. In 2007 a personal exhibition of the artist was held at the Tretyakov Gallery.
RUSSIAN AVANT-GARDE
ROZHDESTVENSKY Konstantin Ivanovich (1906–1997) Landscape. A sketch of a mural for the All-Russian Agricultural Exhibition. 1940. Oil on canvas. 29.5 × 29.5
Konstantin Rozhdestvensky was an associate of Kazimir Malevich, one of his favorite students, who was with the teacher until his last days, took part in the funeral of the master. Alas, Rozhdestvensky, like the entire first Russian avant-garde, was "stopped on the run" in the 1930s. It was made clear: either practice socialist realism for the benefit of the working people, or you can be liquidated as a "counter" (counter-revolutionary). Most artists were forced to submit to fate. Rozhdestvensky's compromise consisted in his choice of artistic stand: he began to design Soviet exhibitions. In particular, under the direction of Nikolai Suetin, the artist participated in the design of the historic World's Fair in Paris in 1937 (the one where the "Worker and Collective Farm Woman" statue debuted).
After a few years of work, Rozhdestvensky excelled greatly in exhibit design. In time he became a national artist, an academician. He travelled the world, communicated with Picasso and de Chirico. But the artist did not advertise his avant-garde period, his post-suprematism and the peasant cycle, rather he even hid it for security reasons. As a result, this stage of his work was practically forgotten. Rozhdestvensky understood this and was burdened by what had happened to him. He yearned for Malevich, understood that his potential as an innovative artist remained unfulfilled due to unfortunate coincidence of circumstances. Only towards the end of the artist's life, in the 1990s, did art historians manage to become acquainted with the avant-garde period in the work of Rozhdestvensky. A significant body of his works came into the Tretyakov Gallery. It was there that in 2006–2207, ten years after the artist's death, the personal exhibition "Konstantin Rozhdestvensky. To the 100th anniversary of his birth" was held. It is important that the presented picture is published in the catalogue of this exhibition, on the page 523. We should add that Rozhdestvensky, as befits a member of the Russian avant-garde, is a rare guest at public auctions. And quite an expensive artist. At the London auctions, prices for his works have repeatedly hit the $ 500,000 mark. And the current auction record for his painting was set in 2020 and is $ 814,000.
1960s UNOFFICIAL ART
KROPIVNITSKY Lev Evgenievich (1922–1994) Phantomies. 1990. Oil on canvas. 170 × 120
Lev Kropivnitsky is the son of Evgeny Kropivnitsky, the founder of the Lianozovo group. Front-line soldier. Was wounded, spent a year in hospital. He came back from the war, and in 1946 was imprisoned under an anti-Soviet article for 10 years — under the trumped up charge of "preparing an assassination attempt on comrade Stalin". Under the same article as Sveshnikov. The two survived the camp in different ways. Sveshnikov returned as an unsociable, distrustful man seeking solace in a world of dreams and fantasies. And Kropivnitsky is remembered as a life-lover — a man who appreciates worldly pleasures. This optimism and pounding energy set the mood for his large canvases of the 1990s. "Phantomies" among them is one of the most interior and moderate. Featuring celebration, eroticism, but not particularly evocative. In short, collectors — pay attention!
ZVEREV Anatoly Timofeevich (1931–1986) Nude on a donkey and a horse. Graphic improvisation on the theme of Apuleius' novel «The Golden Donkey». 1983. Ink on paper. 27 × 19
"The Golden Donkey" is one of Anatoly Zverev's favorite novels. Anatoly Timofeyevich made dozens of illustrations for the novel of the Roman writer Apuleius, who lived in the 2nd century. They all have different level of elaboration, different inspiration. But this one is one of the best we have seen. "The Golden Donkey" is a parable about a young prodigy Lucius, who decided to test his fate and received a cruel lesson. After watching a sorceress smear a magic ointment and turn into an owl, the Roman rogue decided to turn into a bird. But it wasn't to be. Something went wrong. Lucius became a donkey. And as such, he spent a long time before the gods took pity on him. But he saw life with new eyes.
Zverev's virtuoso drawing is framed and accompanied by an expert report by Valery Silaev.
YURLOV Valery Ivanovich (1932) Pair of forms (Composition with two figures). 1976. Oil on canvas. 30 × 40
Valery Yurlov is an unofficial artist of the 1960s. Experts believe him to be one of the main consistent non-figurative artists in our post-war art. The presented work is small, but important. It would seem that the two similar figures are the usual one and modified one. What is innovative here? The connoisseurs will immediately understand. The fact is that Yurlov is the developer of the "pair of forms" concept, or "was — became". In its simplified form, the idea consists in the analysis of two states of an object — before and after influence of the external environment or time. Interestingly, Yurlov's abstractionist concept was born under the influence of a purely impressionist revelation. The artist said how he sat on the shore of the Black Sea in Abkhazia and watched the surf: "I found a tin can, which the wave breaks. It turns it into a completely different form — here is the same can, but brand new. And since I was doing still-lifes, comparisons, I simply put such objects on the table, drew and somehow found this "was — became" influence".
How did independent abstractionists live in the USSR? They did not exhibit. The artist earned his living as a book illustrator with the publishing house "Detgiz". But he managed to fall into disfavor even there, as he experimented with form, avoiding banality. And what about his paintings? Yurlov was forced to paint them "in the background". Without a chance to be shown at an official exhibition. His paintings were occasionally bought by foreigners brought in by friends through connections. Sometimes the artist would present them as a gesture of gratitude. It happened in different ways. In particular, our "Pair of forms" was kept for more than 40 years in the family of a friend of the artist and is now being exhibited at the auction for the first time.
NEMUKHIN Vladimir Nikolaevich (1925–2016) Widdie. 1996. Canvas, acrylic, mixed media. 50 × 50
Contrary to popular misconception, the artist himself was not a gambler. And the suits on his compositions are a formal move and a product of an impressionistic shock. According to legend, while walking, Nemukhin saw a deck that was blown into the water by the wind. And this beauty of half-submerged, helpless cards made such a vivid impression on the artist that it became the main theme of his work. "Widdie" refers to one of Nemukhin's favorite subjects, to which he returned more than once.
YAKOVLEV Vladimir Igorevich (1934–1998) Red flower. Late 1960s — early 1970s. Gouache, tempera on paper. 50 × 50
Vladimir Yakovlev was about 30 years old when he painted this flower. This is the heyday of his strength and talent. Expert Valery Silaev noted that each work of V. I. Yakovlev of this quality of performance is unique and of great value. In the 1970s having a flower of Yakovlev at home was not only a pleasure, but also a good tone among the freethinking Russian intelligentsia. Such flowers hung in the apartments of doctors, scientists and writers. Such museum-quality pieces are now a rarity, and their prices have risen noticeably.