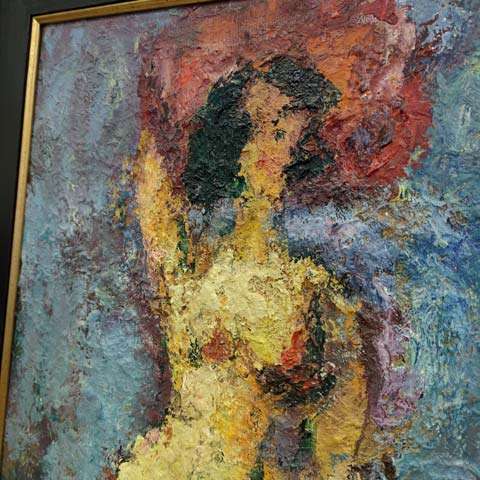 MASTERPIECES
BUKH Aron Froimovich (1923–2006) Nude in a red hat. 2002. Oil on canvas. 90 × 60
1984. Soviet Union. A personal exhibition dedicated to the 60th anniversary of Aron Bukh is being held in Moscow under the auspices of the Moscow Union of Artists. Neat painting, boring, but not contradicting the canons of socialist realism. Officials and colleagues are praising. Flowers, congratulations, flaming speeches, diplomas. Encouraged by the warm welcome, the artist decides to donate the entire exhibition! To people, museums, to the country! But a mooing in response — "Eh, there's no hurry... we'll see later". Everything is clear.
The masks are dropped. In a few days, the enlightened artist will burn all the paintings in a dumpster. He draws a line, gets rid of the past, and soon a new Bukh will be born. The one everyone knows and loves. Wise of life. Fierce. Incredibly powerful. Free. The one who has finally escaped from the captivity of correctness!
In his essay on the artist's work, Valery Silaev very aptly compares Bukh to a volcano, and his painting method to the boiling lava. Bukh was tuning himself for some time, he was getting psyched up. And then he rushed into action — quickly and expressively. He mixed paints on canvas, spread them with fingers and brush, rubbed with newspapers and rags. His work was a physiological necessity. From morning till night. If finished paintings were not picked up in time, sometimes the artist painted them anew. It is no coincidence that we often see works where the old title was crossed out and the subject completely changed. For instance, there was a landscape, but it became a still life — that's very often.
Bukh's works are very liquid and available to a wide range of collectors. Medium-sized oils are available in the price range of 80,000–120,000 roubles. Masterpieces are another matter. Here the prices are several times higher. And today in front of us — a masterpiece. An inspired painting with an impeccable exhibition history. It is published in several exhibition catalogues and is accompanied by a certificate of authenticity from the Bukh Museum. A ready investment option.
Who's the lady in the picture? Why so much expression? It is probably one of the impressions of the trips to Europe. Bukh definitely went to France. And, as we heard, to Holland. Perhaps in front of us is one of the ladies of the red light district. So they say.
1960s UNOFFICIAL ART
ZVEREV Anatoly Timofeevich (1931–1986) Nude on a donkey. 1958. Lead pencil, oil on paper mounted on cardboard. 40.5 × 34
In front of us is one of the earliest known works of the famous Zverev cycle to "The Golden Ass" by Apuleius. Which is noted in the examination of Valery Silaev. It is 1958 — the most inspired and, perhaps, appreciated by collectors period.
Apuleius is an ancient Roman writer. "The Golden Ass" was written in the second century. According to the story, a young life-burner Lucius decided to try a forbidden drug. Namely, a sorcerous ointment that allows people to turn into animals. But something went wrong: he wanted to be an owl, but turned into a donkey. And there was no way back. He had to look at life through the eyes of a pack animal. The rest is a happy ending. The guy got smart.
"The Golden Ass" became one of Zverev's favorite works — a source of reflection and complex emotions. He turned to its plot throughout his life. But here the value is also in the fact that Zverev is only 26 years old. The fame of him just spread throughout Moscow. It is still that level of work which can be called "for oneself". The piece is virtuosic, subtle and inspired. "Museum value", as Silaev writes.
SILIS Nikolay Andreevich (1928–2018) Sitting man. Bronze, wood. Height with pedestal 46 cm
Nikolay Silis is an innovator of contemporary plastic arts. He was once a member of the group LeSS, named after the young avant-garde sculptors Lemport, Silis, and Sidur. These are the ones whose works were smashed by "offended" extremists at the Manege exhibition in August 2015. Surprising and strange. After all, similar methods — harassment, threats, and destruction of works — had already been used to try to subdue impertinent sculptors. They did not allow them to work, knocked down finished bas-reliefs and the like. But that was in the totalitarian Soviet Union. And here it is the same again.
Before us is a very distinctive work. A rather large bronze, 46 cm high. On a wooden pedestal. With the mark of "SiliS".
SVESHNIKOV Boris Petrovich (1927–1998) Passing through. 1994. Cast paper, oil. 57 × 38
Sveshnikov of the 1990s is recognizable at a glance. The spirit and the storyline of his work have not changed. It is a dialogue with time, a conversation about doubts, about the incomprehensibility of the world order with its complex balance of good and evil. What has changed? His style has changed. His paintings have become more mosaic-like, woven out of a grid of color elements coming together in a complex image. Otherwise, everything remains the same. Philosophical Sveshnikov, a comfortable size — perfect for starting a collection.
YAKOVLEV Vladimir Igorevich (1934–1998) Flower on the table. 1981. Charcoal pencil, gouache on paper. 53 × 43
Bright, moody work. It's a sight to behold. 1980s. Yakovlev is already a well-known artist and is in good physical shape. These flowers bought doctors, designers, the creative intelligentsia. For Yakovlev, flowers were a symbol of the fragility of life. But here it is not necessary to run into explanations and look for complex conceptual meaning. Flowers, or rather, portraits of flowers always won over with their sincerity and touchingness. It is beauty in a pure kind. The decoration of any gathering.
PORCELAIN by 1960s ARTISTS
NEMUKHIN Vladimir Nikolaevich (1925–2016) Suprematist egg. 2007. Porcelain, overglaze painting, wooden stand. Height 16 cm, with stand — 22 cm
The tradition of Easter eggs in form, a constructivist painting theme from one of the patriarchs of post-war unofficial art. The circulation of these porcelain sculptures on a wooden pedestal is made at the German porcelain factory. The circulation is small — 50 copies.
CHUIKOV Ivan Semyonovich (1935–2020) Viewpoint. A set of five plates. 2014. Porcelain, painting. Diameter 30.8 cm (each)
Ivan Chuikov is an artist of the Sretenka group, a follower of Kabakov, Yankilevsky and Bulatov. He is a representative of Moscow conceptualism. The "Viewpoint" project is not an adaptation of the painterly themes for a new material (as it usually was), but an independent concept, originally developed specially for porcelain. The stated circulation was very small — 30 copies. And in fact these sets were made much less. So to collectors — attention!
RUSSIAN ABROAD
BURLIUK David Davidovich (1882–1967) Hot Springs, New Mexico. 1940s. Oil on canvas mounted on cardboard. 20.3 × 25.4
The father of Russian futurism, who had been living in the United States for many years, loved to travel around the country. From his trips he brought not only new impressions, but also new paintings and drawings. Genre sketches, landscapes, scenes of city life. Someone even calls them paintings-postcards. They were eagerly purchased then, and are being bought now. The pieces are very positive, light, giving a good mood. A small painting "Hot Springs" is accompanied by the expertise of Valery Silaev.
MAREVNA (Vorobyova-Stebelskaya Maria Bronislavovna, 1892–1984) Canet-en-Roussillon. 1946. Pencil, watercolor on paper. 25 × 32.5
One of the most famous Russian artists of the Paris school. She was named Marevna by Gorky, and that name became the creative pseudonym of Maria Vorobyova-Stebelskaya. A graduate of the Stroganov School, she lived in Paris from 1912. She was friends with Modigliani, Soutine, Rivera. "My friends from Montparnasse" — became one of the most famous of her paintings. The watercolor presented at the auction is a landscape written from life, on the Côte d'Azur in 1946. Airy, light, atmospheric work. Its authenticity is confirmed by the expertise of Valery Silaev.