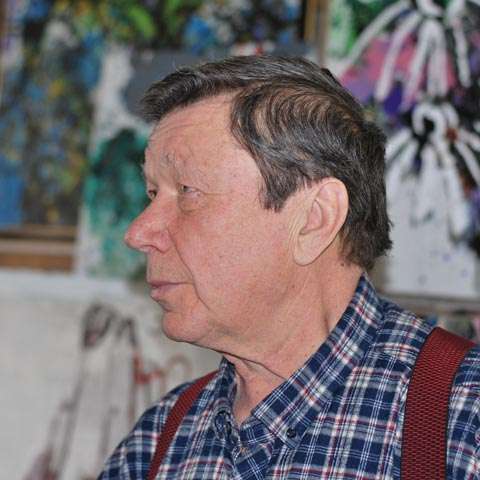 The artist Viktor Semyonovich Kazarin passed away. An outstanding Russian neo-expressionist and post-suprematist died on February 1, 2021 in Moscow.
As a true "interior" artist, Kazarin put "psychophysiology" above everything, a gift that was revealed to few and only in a special state of consciousness. The way to it could not be replaced by reason and logic. To reach his "psychophysiology", Kazarin invented a special system of "tension and overstrain": through intensive hours of work and doping, the artist brought his psyche to prohibitive modes, close to a trance, in which the brain began to work automatically, and images began to appear intuitively. "An artist becomes an artist when he works to the point of exhaustion. Walking back and forth and thinking is not that. If you work hard, then you think a lot. Like an athlete, an artist needs to pump a lot".
Kazarin painted thousands of paintings and thousands of gouaches. In his youth, he was able to make a large exhibition in a few days. And even then it was a reproach to him: well, an artist cannot work so fast! But he could. Selflessly, on heat. From the outside it seemed that everything was easy and simple for him. But, of course, this false impression. Kazarin was a hard worker. He told me that the work of an artist was no easier than that of a worker — it required the same discipline and dedication. And what the work of a worker, he knew firsthand. When he was 15, his father arranged for him to work at the Central Institute of Aircraft and Engine Engineering named after Baranov. If you want to be an artist, first get a job. Within a year, the young grinder Viktor Kazarin became an excellent worker. And only after fulfilling his father's testament, he went to study to be a painter. After the plant, he spent several months recuperating his skills — his hands had not been able to listen to him for a long time after working on the machine. He enrolled at the graphic arts department of the Lenin Pedagogical Institute. They wanted to kick him out for formalism. But Efanov stepped in. Crushed by authority. Luckily. They did not spoil the biography of the future teacher of drawing, drafting and labor.
Kazarin did not become a teacher. After the institute — the army, posters, banners. And soon came the legendary times of the City Committee of Graphic Artists. A new life began in the territory of free art, reclaimed by artists after the disgrace of the Bulldozer exhibition. Kazarin participated in exhibitions at 28 Malaya Gruzinskaya Street from the very beginning, since 1976. Discussions, disputes, scandals. Kazarin was in the "Group 21" — all young, scrappy. He was twice expelled from the City Committee for behavior, twice restored. A time of triumphs, time of discoveries. Youth. The artist fondly recalled those years. Nearby were the friends — Zverev, Bich, Vologzhanin. With Zverev they were not just friends. For several months they worked together in Kazarin's workshop. There they also created a famous series of joint works.
Then perestroika. 1991 — the legendary exhibition at Manezh. 600 canvases, including gigantic works of 2 by 3 meters. Kazarin himself regarded this moment as a triumph — as a solution to a problem beyond the strength of most artists. But soon the times of success gave way to a long period of disappointment. Kazarin left Moscow for several years, distanced himself from the artistic process. Fortunately, he found the strength to return. And numerous collectors were again able to see his work at gallery exhibitions and popular auctions.
Kazarin will be remembered as a rebel, both in art and in life. He did not hide his opinions. He did not choose his words. He said what he thought. He made friends and enemies very easily. He lived as he wished. Never bowed to fate. Didn't change his habits. And he had the last word. So, at the height of the pandemic, when everyone ran away to their homes, Kazarin continued to drive stubbornly to the workshop every day as if nothing had happened. Friends and family dissuaded him: "Take care of yourself!" He wouldn't take it: "Art is my life. I'm not afraid of anything. I won't change a thing". As if he felt that the virus could not take him. And so it turned out. Without even realizing it, Kazarin bought himself some time. He worked with pleasure for the whole last year. Until another deadly disease crept up unnoticed.
In recent years, Viktor Semyonovich spent the warm months in his beloved Ferapontovo. He examined the frescoes of Dionysius in the famous monastery, fished, communicated with the village people, gained strength, and made sketches for future paintings. In Ferapontovo, he will be buried. Tomorrow, February 4th.
Vladimir Bogdanov