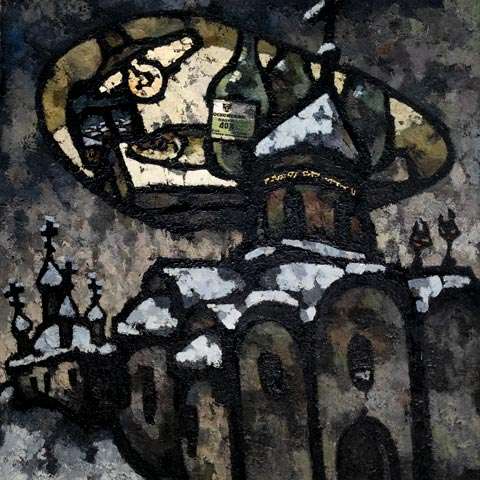 The past year 2022 should be counted not even in two, but in four. All times converged in it: a peaceful January of post-pandemic optimism, the February shock, the loss of export markets, the September mobilization, mass relocation, non-working exchange offices, and the heaviest restructuring of logistics chains. The exchange rate was 75 rubles to the dollar in January, 120 in March, 50 in June, and again 75 in December. Is it possible that such a thing could happen in a single year? Unbelievably decisive reanimation measures implemented by the Russian financial authorities are generally a separate surprise for us. A comatose person in 2021 could only guess that something extraordinary had happened in the country by the number of Chinese cars. Hats off to them for that. However, this is only the beginning. It's clear to everyone that life will continue to test the limits.
Well... A test is a test for everyone. The crisis sharpened and accelerated all the subtle processes on the art market. It became clear who holds the punch, who wins, and who, on the contrary, is the weak link. At the same time the new tendencies manifested themselves in a much harsher way than during a normal crisis. All previous crises were distinguished by the fact that we understood approximately the depth and period of recovery. How was it before? You had to be patient for a year and a half, and then everything would start to grow again. And you didn't even have to change business processes for the sake of this growth — you just had to wait it out. Now there is nothing like that.
So, this time we will have neither deadlines nor forecasts. There is no sense. Only observations. And here's what we have paid attention to in 2022:
Never before has there been such a noticeable number of paintings of such a high class on the domestic auction market. Yes, the quality of supply was also growing in 2020–2021. And then we attributed this to the pandemic isolation and the forced concentration of money inside the country. But in 2022, a much more powerful factor was added to these factors: relocation. Old collectors and families with masterpieces began to rush to the road. And the time came to urgently sell what they did not plan to part with.
 
Contrary to formal market logic, the increased supply of high-end paintings on the market has not led to a collapse in prices. Yes, for individual artists they have adjusted downward. For example, Belenok, which in 2021 could be sold for 2,000,000 rubles, was sold last year for 1,600,000–1,800,000. Should such a shift be called a fall? Well, no. In the current environment, you could say that we got off scot-free. What about the others? As always, there were authors that showed significant growth over the year. Among those who rose in price we can mention the top pieces by Boris Sveshnikov, Igor Vulokh and Dmitry Krasnopevtsev. Whether this is a trend or an accident is another question. But at the very least we can exclude any art history breakthroughs, new publications or high-profile exhibitions from the reasons for the price increase. Nothing of this in relation to these authors has not happened. It's just that masterpiece-quality works have come to market, and there have been buyers and market-makers who have fought hard for them. And here we come to the third important observation.
 
2022 was the year of the new market makers. What happened? In the segment of post-war unofficial and contemporary art, the audience split quite clearly into two groups. Paintings and graphics up to 200,000 rubles experienced a sales collapse of 80% compared to pre-war times. In practice, this was felt as an almost complete halt in sales. At the same time, paintings and graphics for 200,000–500,000 rubles last year suddenly became an "emotional buying zone" for prosperous buyers. Here the rule "I liked it — I bought it" worked. There are almost no masterpieces for that kind of money. But interesting scholarly things and unexpected finds "to fill in the gaps" — yes, such things were bought. For example, for close money, one could buy a drawing by Zverev from the Costakis collection, a portrait of Yakovlev, or a small painting by Nemukhin with a serial plot. Such works were bought not by the middle class in the expectation of profitable investments (as before), but by rich people for pleasure. So, the light in the segment somehow flickered.

And the only segment where life was throbbing in 2022 was the "millionaires" market, that is, paintings for 1,000,000–7,000,000 rubles. The price obliges, for that kind of money, works of a really killer museum level, masterpieces, were exhibited. And this attracted the very new market makers — a small circle of new wealthy collectors, who in the crisis conditions have not lost enthusiasm, have increased their financial capabilities and are still not going to leave. We have seen with our own eyes how, in 2022 alone, such people have managed to build up museum-quality collections. For comparison: in the old days, collectors spent 5–10 years looking for and waiting for works of such a high caliber. And the new enthusiasts succeeded in a year. However, the activity of market makers has not only pluses, but also minuses. Among the latter is the effect of scaring away other buyers. As soon as market makers show their interest, many serious bidders lose heart: "It's impossible to compete with such fighters". That is, we are talking about a reduction in the circle of potential buyers and a certain imbalance. Fortunately, the threat so far is more theoretical. But it is necessary to keep it in mind.
 
For the first time the "Sotheby's absence factor" manifested itself. Problems with foreign auctions, where the best Russian paintings were sold dearly, began back in the pandemic. Because of air travel and logistics. And after February 2022, the world's leading auctions have stopped holding "Russian auctions". Buyers were forced by hook or by crook to take out already paid works or to seek a refund. A number of European auctions, even of the second or third row, have completely ceased to allow buyers with Russian surnames and telephone numbers to trade. All this naturally should have immediately turned the flow of high-quality Russian paintings to the Russian auction market. And we were waiting for that. But it didn't happen. Or rather, not at once. In fact, for most of 2022 we could register that the "Sotheby's absence factor" did not work. It was only at the end of 2022 that the process began to take hold: those paintings that Sotheby's-Christie's would have gladly taken for auction before ended up on the domestic auction market. And the world has not collapsed. Top things have found local buyers here perfectly well at quite "Sotheby's" prices. And this, in turn, led to...
 
For the first time, the owners of the paintings began to use a new tactic: they began to put the top works at auction immediately, bypassing the path of private sales. There's a point to make clear. Previously, most sellers (owners of works) went on a different pattern. A good thing was first given "to work" to dealers or gallerists. They would offer the painting "through connections" — they sent the picture to a client base and called the price with a margin for bargaining. This took a few weeks, if not months. And only after «working out» on the connections, the thing was decided to put up for auction. It would seem logical. But not everything is that simple. Sometimes as a result of active "WhatsApp trading", a good thing would come up for auction pretty "over looked". "For the fourth time we chased this boar past his highness, and his highness, pardon the expression, misses and misses". In the end, the right buyers (and there aren't many of them) looked at the online catalog and grumbled: "We were offered this picture three times by different people and the price was called either $30,000 or $45,000". It is clear that from different parties the painting was offered at different markups. This was annoying. And most importantly, there was a loss of a sense of exclusivity. As a result, the trade down began — in short, so-so scenario. But last year something changed. We noticed that some owners of high quality works stopped lending them for work "through connections" (although they could), but immediately put them up for auction. And in this case the effect sometimes surpassed the boldest expectations. An untapped masterpiece caused a serious struggle and the "exclusive" often left with a noticeable excess of the reserve price. We cannot yet say that this practice has become total. The art market is too inertial and traditional for that. But the fact that the pendulum of seller preferences has swung in the direction of open sales is a reality.
Well, it's time to take stock of 2022. On the one hand, we have experienced the first such monstrously difficult year. A year of anomalies and absurdities. Everything did not seem to go according to plan. But at the same time, it was an unexpectedly successful year for the art auction market — better than 2021 and 2020. There were new buyers-enthusiasts, there were high quality works. This is a fact. But now we can only speculate: would this have happened without sanctions and mass departures? At the same time, there are a lot of reservations to be made here. In particular, we cannot know the whole picture and can only confidently judge only the nonconformist segment. Therefore, it's not a fact that it's just as good in Russian classics (for example, the market of the second row names definitely lay down — we know). Moreover, we do not know whether the positive trend in the sixties market will develop into a long-term trend? Or is it a temporary improvement on the eve of stagnation? There are no answers to this. As well as to a thousand other questions, which in the last year were forbidden to ask at all.
In other words, we don't know how long the transition era will last. But we do have a proven recipe for surviving difficult times. It has been noticed that it is art that helps to preserve sanity and find new meanings in such moments. You can always find an outlet in it, study its philosophy and feel its historical context. And perhaps be surprised how much in today's life is repeated from what was already 60 years ago.
And that's another lesson: Active people have always managed somehow. They found opportunities. Built relationships with an aggressive society. And often emerged victorious in battles. Everything will be fine. Good luck!
Konstantin Babulin, Vladimir Bogdanov, ArtSale.info auction specialists