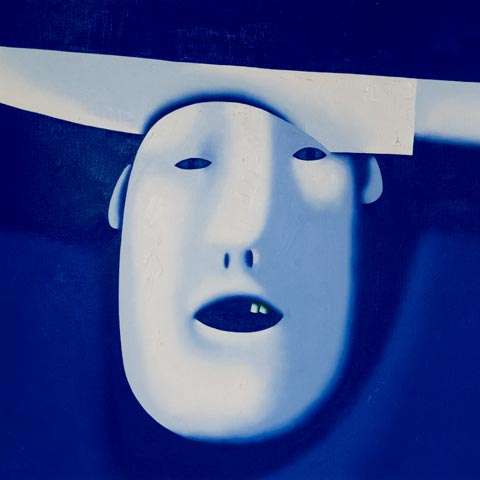 MASTERPIECES
TSELKOV Oleg Nikolaevich (1934–2021) Head with a knife. 1992. Oil on canvas. 60 × 120
One of the most famous innovators of the post-war generation was expelled several times from various art institutes. Living in the Soviet Union, Oleg Tselkov regularly had to go to subterfuges to be considered an artist and not a slacker. But for some reason, Evtushenko, Akhmatova, Siqueiros and Guttuso came to this untrustworthy subject to see paintings in his room on Sokol. His father, who worked at a secret plant, was then dragged to the KGB to take responsibility for his son's dubious acquaintances. And today Oleg Tselkov is the pride of the national post-war art. Any of his paintings is a Mercedes in a collector's "garage". The level is set immediately. At the same time, the artist is strikingly modern. You can never tell that his main theme appeared more than 60 years ago.
In front of us is a metre long Tselkov, a radical subject — perfect for a daring collection. Faces, muzzles, snouts, masks — these images appeared in the work of Tselkov in 1960. How did it come about? We have heard many versions and elegant interpretations from art historians. But rather, they can be treated as fantasies. In fact, Tselkov himself did not mess up an issue. In his interview with Vadim Alexeyev, published in his book "Perfectly Other", the artist said that everything came out by accident. He simply drew two characters and realized that he had gone out on his own path. Then he set himself a task: to apply the method of depicting the face to everything else — both still life and landscape. The first painting made using the new method became a nightmare for Tselkov, he remade it a hundred times. But in parallel, he came out on his main discovery. "By the will of fate, I was the first artist to create a face in which there is no idealization. A face in which there is nothing of the face of God. For 40 years now, I've been making this face with the same passion with which I devour lunch. It turns out that I paint faces that are a mystery to me. I do not understand them".
A mystery indeed. The metaphor of the cut-off face is open to many interpretations. There's the idea of redemptive emancipation, and the duplicity encouraged by society, and the conflict with oneself, and getting rid of the mask, and the complex of social hypocrisy. It's a complicated, multidimensional thing. And absolutely captivating the attention of any viewer. It's impossible to get past it.
Please note that the work is signed in the lower right corner — a large signature in Russian is applied by scratching. And on the back there is a dedicatory inscription and title.
KOSHLYAKOV Valery Nikolaevich (1962) Architectural fantasy. From the cycle "Ideal City". 1994. Canvas, mixed media. 168 × 182
Again a museum size — almost two meters — and the main theme from Valery Koshlyakov, perhaps the most famous contemporary Russian artist of the 1990s.
Koshlyakov's paintings are almost always a conversation about eternity, about time, about the elusive beauty, about the fragility and frailty of the world. That is why his collage landscapes are based on antique and medieval ruins, architectural monuments and sculptures. And Koshlyakov's works are also an aesthetic melancholy and an appeal to pure classical beauty, largely rejected by the postmodernist era.
Koshlyakov became famous at the time of the squat in Trekhprudny Lane, where young, reckless newcomer artists gathered in the 1990s. They lived, worked, composed manifestos, staged exhibitions, and went on binges. At the time, Koshlyakov was a member of the "Art or Death" fellowship, together with his friend Avdey Ter-Oganyan (who was later forced to flee from political persecution).
Today Koshlyakov is a respectable Parisian artist whose paintings are worth tens of thousands of euros, and some works at auctions successfully storm the bar of 100,000 euros. He is loved and appreciated in Moscow. He is represented in important private collections and museums.
"Architectural fantasy" is a powerful, large-scale piece made in a complex author's technique. It is based on a canvas on which the image is painted partly in collage technique, partly with slate and partly with water-soluble paints. And this is not a "frozen beauty". On the contrary, there is a lot of neo-expressionistic and very emotional in it. These works are not boring. You cannot take your eyes away.
NESTEROVA Natalia Igorevna (1944–2022) The impending storm. 1992. Oil on canvas. 130 × 130
The news of the death of the "amazon of the leftist Moscow Union of Artists" came on August 10, 2022. Natalia Nesterova died at the age of 79.
The picture-parable "The impending storm" was painted 30 years ago, in 1992. The Soviet Union had just collapsed. All social and economic hierarchies were being rapidly rebuilt. The old world was falling apart. Professors went to sell consumer goods in Luzhniki. Shots were fired in doorways every day, and the Mercedeses of the new masters of life were regularly blown up. At the same time, a feeling of anxiety, confusion and injustice coexisted with an unprecedented hope for a bright future. Here it was time to tighten our belts and there was little left to do. And it was precisely these two strong feelings of anxiety and hope that were the emotional dominants of our picture. Let the wind tear hats, let the sky fill with lead, but life will take its course. And carry us to a beautiful future, like a snow-white cruise liner.
1960s UNOFFICIAL ART
SVESHNIKOV Boris Petrovich (1927–1998) Walk. Second half of the 1970s. Canvas, oil. 60 × 75
The lightest and compositionally softest painting by Sveshnikov from the collection of Italian collector Piero Savoretti. The rarest minty-lilac palette, a lady with a fan, theatrical atmosphere. All the devils are asleep. And only the cobweb in the upper corner reminds us of the mystical torments of Boris Sveshnikov. Note that the painting is signed. In the lower right corner, the monogram SB is buried in the pointillé. The authenticity is confirmed by the expert opinion of Valery Silaev.
BIELUTIN Ely Mikhailovich (1925–2012) Prophet. 1974. Oil on canvas. 97 × 64
The phenomenon of Bielutin as an artist and organizer has continued to amaze unofficial art researchers for many years. It is difficult to imagine how a studio, in which hundreds of people were taught painting outside the canon of Socialist Realism, could have existed alongside the Soviet authorities in the 1960s. And not just "outside the canon"! The "New Reality" became a hotbed of "abstractism" and "formalism"! It was not without reason that Khrushchev started to scold the artists at the Manezh exhibition in 1962. Such artists as Boris Zhutovsky, Alexander Pankin, Igor Snegur, Vyacheslav Zubarev, Natta Konysheva and others emerged from under the wing of the Bielutin studio. Truly, only a real political heavyweight could pull such an undertaking. Wise, experienced, diplomatic. That is how Ely Mikhailovich Bielutin was remembered. Against the background of the bulk of organizational problems solved by him, his role as an artist and innovator is sometimes underestimated. And he undoubtedly was one. Having come from the front, Bielutin entered the Surikov Institute, studied under Lentulov and Kuznetsov. At the end of the 1950s, he proposed a method of teaching based on the spontaneous release of creative energy. And he infected his ideas to a huge army of people looking for themselves in creativity.
"Prophet" is a classic Bielutin work of mystery. An abstract dance from the foreground with "blurring of vision" turns into a portrait of a prophet. In contrast to the works of studio members, the Maestro's paintings have become a rarity on the auction market. We have not had Bielutin's works for a long time. So this is an absolute luck for collectors.