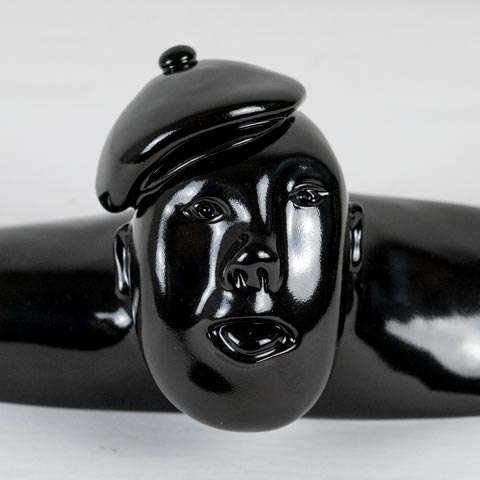 1960s UNOFFICIAL ART
TSELKOV Oleg Nikolaevich (1934–2021) Four black sculptures. 2011. Porcelain. Factory Höchster Porzellan-Manufaktur
The porcelain black sculptures and their white counterparts are Oleg Tselkov's first and only experience of transferring his characters into small sculptural plastic. In other words: he had plates, vase, dishes and even a porcelain egg, but there the technique of transferring flat images was used. Tselkov had volumetric plasticity only in porcelain and bronze.
A series of four black sculptures was produced at the Höchst factory in a tiny edition of 15 copies. Given the number of the artist's admirers, the sculptures immediately settled in collections and became a rarity. Another important point: often these sculptures were sold piece by piece, sets were broken up. A complete set is therefore an even greater rarity. Each sculpture has a certificate of authenticity with the signature of Tselkov. The items are published in the catalogue "Porcelain of the Sixties" on pages 66–71.
STEINBERG Eduard Arkadevich (1937–2012) Composition. 1984. Oil on canvas. 60 × 80
The first person to buy a painting by Steinberg was the science-fiction writer Kir Bulychev. Initially, from his Tarusian youth, Steinberg was a figurative painter. He considered himself a symbolist and a follower of the "School of Paris". But Steinberg entered the history of post-war Russian art with Malevich's original transcripts, in which the geometric primary symbols of Suprematism could be combined with elements of figurative painting.
Today we see the classical Steinberg of the mature pre-emigration Moscow period. 1984: the phase of developing his language has long been completed, and the artist operates freely in the poetic phase. Perestroika was still a year away and little foreshadowed the coming changes. In 1988 Steinberg left for France. There, the artist will begin a fruitful period of work with the Claude Bernard Gallery. Steinberg's language would remain the same, but the color palette would become more vivid and the formats of the canvases would grow noticeably.
The 1984 Moscow "Composition" is a monument to its time, a model exhibit for a collection of nonconformists.
NEMUKHIN Vladimir Nikolaevich (1925–2016) Red and black. 2002. Paper, pencil, acrylic. 60 × 50
NEMUKHIN Vladimir Nikolaevich (1925–2016) Jack Retro. 2013. Canvas, graphite pencil, acrylic, collage. 70 × 50
These two works are separated by 11 years, but, in fact, they belong to the same period. In the 2000s, Nemukhin sums up the results of his creative path. He develops the storylines found in previous years, and includes the main ones in the retrospective catalog. And just the plot "Red and Black" (not specifically this work, but from the same cycle), the artist subsequently made the cover of his main monograph.
Now about "Jack Retro". The theme for the artist is so organic and so connected with his name that it seems that he had jacks from time immemorial — always. However, if you follow the chronology in Nemukhin's monograph, then the first and precisely such jacks appeared in the early 1980s. They laid the foundation for "Jacks-Chagalls", "Jacks-Mayakovskys" and others. The composition of "Jack Retro" combines the symbols of Suprematism and the trademark Nemukhin card theme. It is a complex, multi-faceted, energetic and stylish painting. Expert Valery Silaev notes that this work may have museum value.
ZVEREV Anatoly Timofeevich (1931–1986) Portrait of Venechka Erofeev. 1977. Paper, charcoal chalk. 61.7 × 42.8
ZVEREV Anatoly Timofeevich (1931–1986) Girl with green eyes. 1981. Primed cardboard, oil. 50 × 34
Venedikt Erofeev is a legend of underground literature. The son of a repressed man, he spent his childhood in an orphanage. But he finished school with a gold medal and entered the Philological Faculty of Moscow State University. Two years later he was expelled, and later expelled from several other institutes. He worked as a loader, a lab technician, a seasonal worker, and even as a guard in a sobering-up station.
In 1970, that is, at the age of 29, he wrote his most famous literary work — a prose poem "Moscow — Petushki", which three years later was published in Israel, and in our country it went in samizdat. The book is an absurdist-ironic narration of an alcoholic with a tender soul. And the alcoholic is not just a lyrical hero for the author. Alcoholism for Erofeev was partly a form of protest, a way of escape from the surrounding reality and a way of social camouflage. In this sense, his fate is very consonant with the life of Anatoly Zverev.
The second work, "Girl with green eyes" is a virtuoso portrait by the "late" Zverev. It is written impetuously, vigorously and precisely. Not a single unnecessary stroke. Eyewitnesses were amazed at the form of this act of Zverev's art. The artist did it in minutes. And the work on portraits in his performance turned into a show.
LEMPORT Vladimir Sergeevich (1922–2001) Bagritsky. 1990. Aluminum alloy. 44 × 17 × 10
We remember Eduard Bagritzky by his lines:
We were driven by youth
On a saber-run,
We were abandoned by youth
On Kronstadt ice.
Fighting horses
Took us away,
In the wide square
They killed us.
But in feverish blood
We were rising,
But the blind eyes
We opened.
His piercing poetry is distinguished sometimes by a special toughness, for which he was often criticized by his contemporaries. But Bagritsky saw life. A young poet of the Silver Age in 1915 participated in a campaign against Persia. In 1917 Bagritsky fervently accepted the revolution. He participated in the Civil War. He saw life. And the famous "Death of a Pioneer Girl" is also based on real events.
The sculpture "Bagritsky" is a logical pairing to the statuette "Mayakovsky" by the avant-garde sculptor of unofficial art, Vladimir Lemport. In the 1960s he was a member of the group LeSS (Lemport — Silis — Sidur).