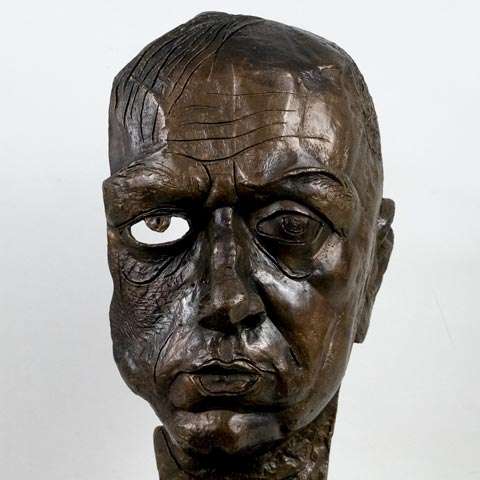 RUSSIAN AVANT-GARDE
ANNENKOV Yury Pavlovich (1889–1974) Optical birth in brown and black. Blizzard. 1950s Canvas, oil, wood, collage (relief). 147.5 × 97
ANNENKOV Yury Pavlovich (1889–1974) Self-portrait. 1930s Bronze on a wooden base. Height with pedestal 50 cm (without pedestal — 42 cm)
Yury Annenkov is an artist of Russian avant-garde, an experimentalist, an innovator of portrait genre. Images of Trotsky, Meyerhold and Akhmatova, which first come to mind for many, belong to his hand. Annenkov is one of the most expensive Russian artists. In the auction ranking, he takes 19th place with a result of 6.3 million dollars for the "Portrait of Alexander Nikolaevich Tikhonov", sold at Christie's in 2014. Annenkov, as is often the case in Russian history with prominent artists, was not admitted to the St. Petersburg Academy of Arts. And the 20-year-old artist went to Paris, where he met Modigliani and Zadkine. He participated in the Salon des Indépendants and was known as a rebel.
Annenkov warmly embraced the revolution of 1917. He created a series of portraits of political figures. One of his most famous works were canonical illustrations for Blok's poem "Twelve". In 1924 the artist went to Europe, and since 1930, in fact, became a non-returner. He was engaged in painting, book graphics, worked as a painter of theater and cinema. One of his last works were illustrations for "In the First Circle" and other books of Solzhenitsyn, which were published in France.
Yury Annenkov returned to abstract art again and finally in 1945, 24 years after his first abstract counter-reliefs. He called his paintings, in which painting was mixed with relief, "optical births". He began to call flat painting a mistake for the fact that it does not change depending on the angle of view. And with the introduction of relief, there is an effect of shadow movement that changes the image. And our optical birth, which Annenkov called "Blizzard", is a vivid confirmation of that.
"Self-portrait" is Annenkov's only known sculpture. It is the third of four casts. In spirit it is a graphic in bronze. Annenkov succeeded in realizing portrait psychology and emphasizing details that are usually impossible to recreate in plastic. For example, the artist amazingly realized the effect of a monocle without using glass.
Both works are published in the catalogue of Annenkov's heir and his pupil Vladimir Hofmann "Yury Annenkov. Russian Period. French period". The authenticity of the painting is confirmed by the expert opinion of Julia Rybakova.
1960s UNOFFICIAL ART
ZVEREV Anatoly Timofeevich (1931–1986) Composition (watermelon and coffee pot). 1958. Paper, charcoal, oil. 56 × 40
The source of inspiration for Anatoly Zverev's "avant-garde cycle" was the paintings of the first Russian avant-garde artists, which he saw in the apartment of "Uncle Zhora" — George Costakis. The cezannist and cubo-futurist still lifes, as well as suprematist compositions, all of them made a temporary revolution in the artist's optics. And Zverev selflessly began to create his own "avant-garde". All those works appeared in a very short period of about a year. And Zverev never returned to this subject again. It's no coincidence that today these drawings remain a great rarity and a coveted "trophy" for collectors.
BELENOK Petr Ivanovich (1938–1991) Escape. 1983. Oil on cardboard, mixed media. 80 × 73
The inspired work of the outstanding innovator of unofficial art is a vivid example of his panic realism. Petr Belenok's paintings are not just a premonition of disaster, but a philosophical reflection on the place and role of man in this world. It is a hymn to frailty, a hymn to fatalism. In Soviet times, his ideas so strongly correlated with the surrounding reality that made the artist truly misunderstood. Many contemporaries considered his paintings "black", pessimistic. But, as is often the case, the great is seen from a distance. The true scale of Belenok's creativity has become clear only in our days. Today Petr Belenok is one of the most popular authors among the new generation of collectors. The presented work is in good condition. It is published in the catalog "Petr Belenok. USSR. Catalog of exhibitions "Chernobyl" and "Panic Realism"" on page 49.
GROSITSKY Andrey Borisovich (1934–2017) Imperishable object. 2004. Hardboard, wood, oil, mixed media. 70 × 50
This pictorial relief depicting a shovel that has lain in the ground is called "Imperishable object" by the artist. It is a poetic metaphor, bringing back again and again to the vanitas genre. In the 21st century it is not necessary to use a skull and a book to remind of the transience of life, futility of pleasures and vanity of vanities. Grositsky builds the same imagery on the example of the shovel. The once shiny tool has become a worn-out piece of scrap metal. But it has a great history behind it.
Andrey Grositsky was a sixties artist, a "gorkom artist" close to the circle of unofficial art. The genre of "portraying objects" invented by him is called "poetry of things".
GAVRILCHIK Vladlen Vasilievich (1929–2017) Figure skater. 1981. Oil on canvas. 80 × 60
Vladlen Gavrilchik is a representative of the Leningrad underground, an artist of Gazanevsky culture. He worked as a skipper, driver and conductor. He was self-taught in art, like most underground artists. Today Gavrilchik is one of the brightest and most recognizable representatives of the unofficial post-war art.
KACHAROV Oscar Abramovich (1924–2007) Jerusalem shoemaker from Bukhara. 1990. Oil on canvas. 120 × 100
The Jerusalem shoemaker is commonly referred to as Ahasuerus, an eternal wanderer who knows no rest. According to legend, he did not allow Jesus to lean against the wall of his house when the Savior carried the cross to Golgotha. "You will rest on the way back," he threw to the condemned to execution. And so for this arrogance eternal wanderer Ahasuerus wanders the world and will not find rest until the second coming. However, before us is too positive a composition to refer to a subject that was popular in the Middle Ages. Bright colors, oriental flavor, laconic forms — all this points to an alternative interpretation. The painting has repeatedly participated in exhibitions and was published in the catalog of Oscar Kacharov.
1970s UNOFFICIAL ART
KHUDYAKOV Konstantin Vasilievich (1945) Three sisters. 2015. Metal, printing, gilding, varnish. 30 × 50
Konstantin Khudyakov is a seventies artist, a representative of the generation of the "young gorkom". He exhibited with Semen Faibisovich, Petr Belenok, Sergey Simakov and others as part of the group "Twenty" at Malaya Gruzinskaya.
In recent years, he has been fascinated by work in the stereo and 3D genre. His innovative stereo panels decorate Fonvizinskaya subway station. The artist creates compositions by computer modelling and then transfers them to the plane using new technologies. Chekhov's "Three Sisters" are made by metallization technology. Fragments of the image give golden glow at a certain angle. The composition is made in a single copy and signed by the artist.