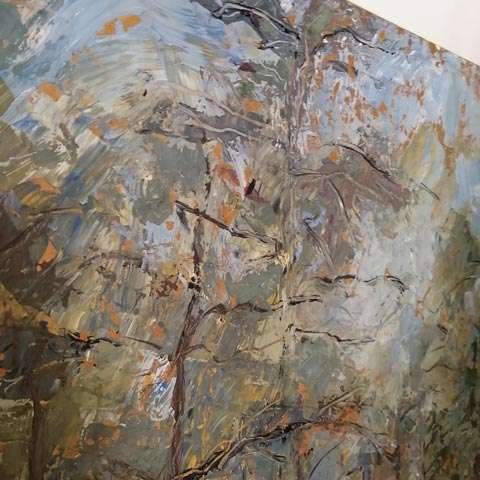 MASTERPIECES
ZVEREV Anatoly Timofeevich (1931–1986) The road in the forest. 1963. Oil on hardboard, scratching. 88 × 60
Large oil on hardboard. The most valuable period, 1963. Inspirational, masterful landscape. Valery Silaev notes in the examination that such works have become a rarity in Russia, it is not easy to find them. After all, it was the landscape romantic Zverev that foreigners preferred to buy and exported a lot during the Soviet era.
What is this road in the woods? Connoisseurs who have seen the work suggest that it is Sokolniki. It is believed that Sokolniki is the cradle and "domain" of Zverev. There he once went to classes at the local art studio. There he was noticed by the sister of actor and choreographer Alexander Rumnev, who became Zverev's mentor and patron for several years. It was at the painting of the pavilions in Sokolniki that Zverev's virtuoso brushwork was noticed by knowledgeable people. From there, his way to fame began. In general, Sokolniki remained Zverev's favorite place to relax with checkers and a glass and a discussion of "Spartak" matches for many years. He found peace there. And there he drew inspiration.
Once again: a large inspired landscape by Zverev, valuable period, the highest quality, museum value, as noted in the examination of Valery Silaev. Rarity.
YAKOVLEV Vladimir Igorevich (1934–1998) Two white flowers in a glass. Late 1960s — early 1970s. Hardboard, gouache. 70 × 59
The second work of museum significance. Yakovlev of the 1960s. Flowers are painted on hardboard, but it is not oil, but gouache. Recall that Yakovlev's flowers are not purely decorative compositions. They are portraits of flowers. They are not decoration, but interlocutors, as his friend Mikhail Grobman used to say. The compositions with flowers are Yakovlev's complex reflections on the world. About its injustice, about the fragility of destinies and at the same time about the triumph of beauty and its divine nature.
There is no signature at work, Yakovlev did not like to sign. But, of course, its authenticity raises no doubts and is confirmed by the expertise of Valery Silaev.
NEMUKHIN Vladimir Nikolaevich (1925–2016) Super Elephant. 2010. Paper, acrylic. 64 × 51 (image). 75.5 × 56 (sheet)
Once again, a rare stroke of luck. "Super Elephant" is one of Nemukhin's most famous and most sought-after subjects. The artist has made more than a dozen of them, in different versions. There is even a pink elephant — or rather, a super elephant on a pink background. So what then is the uniqueness of the situation?
The fact is that super elephants are rarely traded at public auctions. Those that were, for years have settled in private collections. And if something does appear, it goes only to acquaintances, through connections, through "favors", and it simply does not come to the bidding. And so it was historically. About twenty years ago, elephants did appear — collectors begged Nemukhin: "Vladimir Nikolaevich, I also want it — paint me an elephant". And after much persuasion, the artist did. To order.
Interestingly, Nemukhin's very post-suprematist concept of the super elephant was born not from the study of Malevich's theoretical works, but from a dialogue with the Russian classics. It is known that the red circle, which holds the entire composition, is an impression of a painting by Klever, which Nemukhin saw on a visit. The circle is the scarlet sun. Such an interesting turn of events.
The work is done in a painting technique on paper. Paper is Nemukhin's favorite material. Especially in the 2000s. Sometimes he duplicated paper onto canvas, but he preferred to work on this very basis.
So, Super Elephant. Incredibly beautiful. Impeccable technical execution. Authenticity, confirmed by the expertise. And, most importantly, a rare opportunity to buy it in principle.
1960s UNOFFICIAL ART
SVESHNIKOV Boris Petrovich (1927–1998) Outgoing. 1993. Oil on canvas. 76 × 50
The big spectacular oil of the early 1990s. Here we can say briefly: such works are at the highest level in terms of their investment attractiveness and liquidity. This is a signature pictorial web, reminiscent of divisionism, woven with the highest degree of elaboration.
Sveshnikov is an artist of tragic destiny. He was practically a teenager sent to Stalin's camps on absurd charges. For many months he was on the verge of losing his mind from illness and unbearable conditions. And drawing for him remained a way not to go mad — to escape into an imaginary world inhabited by medieval characters placed in bizarre situations. As a result, Sveshnikov's work was transformed after his release into a special form of vanitas — a reminder of the vanity of the world and the transience of life. If you look closely, you can find this in almost any of his works, not counting book illustrations.
Impeccable museum-level Sveshnikov. Rarity. A brilliant investment and collectible option.
SILIS Nikolay Andreevich (1928–2018) Model on a stool. 1982. Bronze. Height 35 cm
Nikolai Silis was a sculptor of the sixties, a member of the avant-garde group "LeSS" (Lemport — Silis — Sidur). In the mid-1950s, three young sculptors made a lot of noise and provoked the anger of veteran academics who received state orders. It began with the fact that in 1954 the group "LeSS" was deprived of the first prize in the All-Union competition for the monument to the 300th anniversary of the reunification of Ukraine and Russia. After that, as expected, their career should have been over. But they did not submit and boldly responded with the article "Against Monopoly in Sculpture". And, unfortunately, they lost. The academics turned on the administrative resources and stopped approving projects for sculptors. And, worse than that, the destruction of their work began. Bas-reliefs were knocked down, monuments were destroyed. After the breakup of the group "LeSS" in 1968, Silis continued to work with Lemport. They shared a workshop, which was at the same time an underground club for representatives of the creative intelligentsia.
"Model on a Stool" is a work from 1982. The sculpture came from the collection of the artist's heiress.
KOSHELOKHOV Boris Nikolaevich (1942) Abstract composition. 2016. Oil on canvas. 80 × 100
Exuberant, frenetic, but already modern Koshelokhov. This means on a normal canvas, with normal colors. Why do we pay attention to this? Because Koshelokhov's early works were made on trash materials — sheets, sofa upholstery fabric and other "media" found in garbage dumps. This is how Koshelokhov was taught by his mentor, the wandering philosopher Kleverov.
In the late 1970s, Koshelokhov became one of the leaders of the Leningrad unofficial art. He came up with the association "Chronicle", and later became the ideologist of the "Association for Experimental Fine Arts".
RUSSIAN AVANT-GARDE
BURLIUK David Davidovich (1882–1967) Marusya. Portrait of the artist's wife. 1956. Oil on canvas. 29.5 × 47.5
Marusya, also known as Maria Nikiforovna Burliuk, is the wife, biographer, chronicler of the era, and favorite model of the father of Russian futurism. Her portraits are one of the most touching subjects in the artist's work. The painting is accompanied by an expert report by Julia Rybakova.