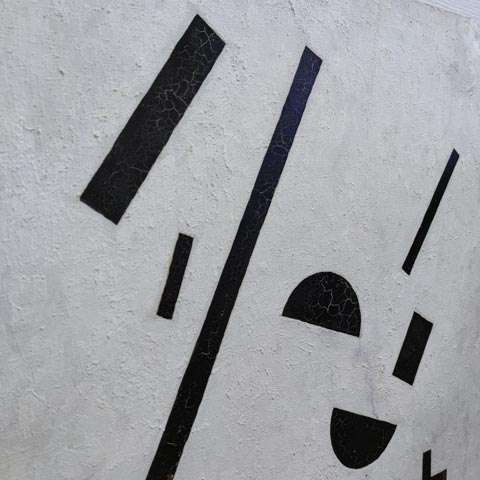 1960s UNOFFICIAL ART
MAKAREVICH Igor Glebovich (1943) Composition No. 5. 2009. Oil on canvas. 90 × 80
Conceptualism with a suprematist face. Igor Makarevich is one of the main figures of Moscow romantic conceptualism. He is a member of the famous art group "Collective Actions", which was founded by Andrey Monastyrsky in 1976.
Igor Makarevich has a special history of relations with Malevich and his philosophy of Suprematism. The conceptualist Makarevich explores the suprematist field in search of the "elixir of painting" — the magical component which animates pictorial matter. Makarevich likes to tell a story he heard as a student at the Moscow Secondary Art School from his teacher, who happened to be a student of Malevich. To quote:
Do you know how Malevich took the entrance exam? He gave the applicant a notebook and said: "Put a dot!" He would dot it. Then Malevich would take another page and again: "Make a dot!" And he would dot it again. Malevich would combine the two sheets, look at the light, see how close the dots were. And on that basis, he would decide whether or not the applicant was enrolled. If close, fine, enrolled.
Makarevich's teacher told about this method of Malevich with reproach — as an example of arrogance and absurdity. But, if you look into it, it was a genius trick. When a person is commanded in a stressful situation to "make a point", he or she does so subconsciously. Malevich was checking how the future artist subconsciously feels the proportions of space — how well he navigates it.
Today we have before us a conceptualist work imitating the Suprematist constructions of Malevich, whom Makarevich also considers a conceptual artist. The primary symbols of Suprematism (rectangles, crosses, semicircles) form a bizarre composition, which is read in different ways. The Suprematist viewer will see a rushing movement in it. And the figurativist can discern, say, a smile, a theatrical mask or even a mascaron.
KALININ Vyacheslav Vasilievich (1939) Cafe "Romance". From the series "Old Moscow". 2011. Oil on canvas. 70 × 60
The painting "Cafe "Romance"" was created in 2011, but it is imbued with the atmosphere of partying back in Soviet times. With guitars, stinking filterless cigarettes "Prima", and "Soviet Champagne", which was only thrown out on the shelves at New Year's Eve. Now people do not sit like that. Feasts in such a "gypsy" format are a thing of the past. But conversations "in the kitchen", where you can openly discuss what is happening in the country, have already returned.
Kalinin's style is called "carnivalism" — from the word "carnival". Only not mimes and jugglers have fun there, but women of low social responsibility, drunkards, bums, in which connoisseurs distinguish portraits of his friends-artists. Kalinin knows what he writes about. This is not fantasy in its pure form, but memories of childhood — postwar, hungry, hooligan childhood in Zamoskvorechye.
Let me remind you. Vyacheslav Kalinin was a 1960s artist of the Lianozovo school, which included Rabin, Nemukhin, Kropivnitsky, Vechtomov and others. Since the early 1960s, he went to Kropivnitsky and Rabin, communicated with a circle of like-minded people. In 1962 Kalinin was expelled from Abramtsevo school after the exhibition of his paintings. The Moscow Union of Artists commission quickly drove him out in the open — exposed as "non-Soviet man". Kalinin's lot has remained showing at apartment exhibitions, as well as rare opportunities to show his paintings to physicists at institutes. Although, for example, his exhibition at the Kurchatov Institute in 1963 was closed on the second day. In 1975 Kalinin participated in a resonant exhibition of unofficial art in the pavilion "Beekeeping". And after the founding of the city committee on Malaya Gruzinskaya, he exhibited as part of the group "Seven" together with Nemukhin, Krasnopevtsev, Vechtomov, Plavinsky and Kharitonov.
So meet Kalinin's "Romance". Atmospheric, languid and prophetic. A jewel in the collection. A must-have.
ZVEREV Anatoly Timofeevich (1931–1986) Portrait of a girl. 1980. Oil on cardboard, scratching. 48 × 34 (in light)
The inspired, signature Zverev with Silaev's expertise. The eighties for Zverev is already a work with mood and inspiration swings. In a series of portraits creative successes happened less and less often. But our case — the exception. Here you can see that the master has worked with desire, with soul, and everything was enough for him. The work is of the highest quality, masterly and of an unusual palette. An exemplary female portrait of the collection level. One such work in the collection is enough to exhaustively close the portrait theme of Zverev.
NEMUKHIN Vladimir Nikolaevich (1925–2016) Composition with a red circle. 1997. Canvas, acrylic, collage. 100 × 100
Nemukhin made the author's versions in those cases when he considered the composition to be an unconditional creative success. He repeated with variations — in different sizes, changing the details. We know several tables — brown, yellow, green. But the value here is that the table is red. It is a rarity. Nemukhin's red circle has multiple meanings. It is not only a Suprematist symbol but also an Impressionist one. The setting sun in the painting by Julius von Klever, seen visiting friends, left such a vivid impression that it was transformed into an element of several conceptual series.
A good year, great size, important subject matter, rare palette all speak about the museum level of the work. Take advantage of the opportunity.
RUSSIAN ABROAD
GLUCKMANN Grigory Efimovich (1898–1973) Summer landscape. Second third of the XX century. Oil on cardboard. 47.5 × 36
Grigory Gluckmann is an artist of Russian abroad. Born in Vitebsk, Belarus, he has worked most of his life in France and the United States. He has exhibited at the "Salon des Indépendants" and the "Salon d'Automne" in Paris. His trademark is romantic scenes, landscapes and nudes done in a very painstaking manner. The technique of multi-layered painting, where the next layer cannot be placed until the previous one has dried, made it possible to achieve a striking effect of semi-transparency. Gluckmann during his lifetime was a favorite of collectors. His works with sensual bathers and nudes were bought by wealthy Europeans and Americans. Today many of Gluckmann's paintings are in museums in France, Germany, Luxembourg and the USA. In the 2000s, Gluckmann was also discovered by Russian collectors. At the peak of the market prices for his paintings have reached phenomenal heights. Auction record was set in 2008 at Sotheby's — a meter composition with a half-naked woman was bought for $ 558,000.
The painting "Summer landscape" is accompanied by the expertise of Julia Rybakova.