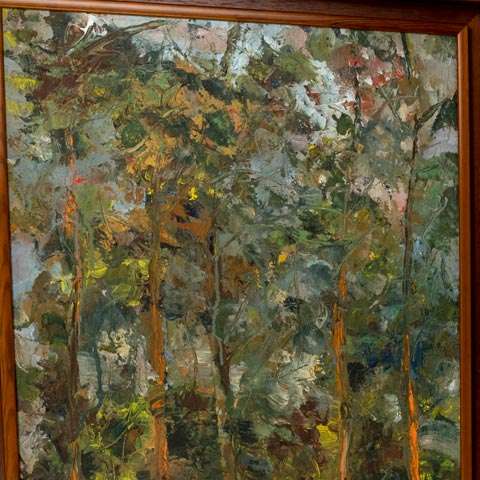 MASTERPIECES
ZVEREV Anatoly Timofeevich (1931–1986) Trees. 1969. Oil on canvas. 70 × 50.5
Zverev of a particularly valuable period. 1969. Plus canvas — which for Zverev is a great rarity. Moreover, one of the most inspired themes of the artist — pine trees of Nikolina Gora. For reference: in the already epic 2004, another painting from this cycle, written a year earlier, has established an auction record for the artist's work — 45 000 dollars at Sotheby's. And today other pines of Nikolina Gora — slightly smaller in size, but definitely not lower in class — are presented to the attention of Russian collectors.
Why did Nikolina Gora become such a place of power in Zverev's work? Oksana Aseeva had a dacha in this picturesque village near Moscow. She was a widow of the poet Nikolay Aseev, a friend of Mayakovsky. A woman of progressive views, she was the "muse of Russian futurism". But today we often think of her as the muse of Anatoly Zverev. Zverev loved to visit Nikolina Gora, lived in pleasant company and worked with pleasure. Today the views of Nikolina Gora painted by the outstanding artist of the unofficial art are of special value and adorn the best collections of nonconformists.
KRASNOPEVTSEV Dmitry Mikhailovich (1925–1995) A vial with fallen out poison grains. 1994. Hardboard, oil. 23.5 × 22.5
This subtle, important, philosophical painting is published on the penultimate page of the catalogue of paintings, compiled by Alexander Ushakov. "A vial…" was painted in 1994, at the end of the life — less than a year before the artist passed away. Sensitively, fascinating metaphysics. One of the most beautiful works we have seen.
Krasnopevtsev is an artist over the era. You can never tell from his paintings that he is a sixties man, that he lived and worked in the USSR during the era of stagnation. His art is a timeless vanitas. Not a single attribute of time — not a newspaper, not a modern device. Only eternal crocks, bizarre shells and dry twigs brought to him by friends from overseas. Krasnopevtsev worked at the Soviet Reklamfilm. But in his mind he was infinitely far away. Most likely, in France, where he had dreamed of visiting all his life, but never had a chance.
VULOKH Igor Alexandrovich (1938–2012) Evening. 1978. Plywood, oil on canvas. 80 × 60
Chic Vulokh of 1978. Particularly valuable period. Museum level. Large size. And note — not an abstraction (Vulokh did not like his work to be considered abstraction), but specifically a landscape. Before us is a masterpiece of meditative convention. It is known that Vulokh, before starting work, tuned in, giving himself a "creative task". With complication and voluntary restrictions. For example, to paint a landscape in three colors only. And such "creative ascesis" led to amazing results — unusually expressive works appeared, very laconic and precise.
1960s UNOFFICIAL ART
ROGINSKY Mikhail Alexandrovich (1931–2004) I've been waiting for an hour. 1995. Oil on canvas. 104 × 87.5
It's going to be difficult now. We have a work in front of us with a subject that cannot be shown closely. And from an exhibition whose name can't be pronounced. Are we done? Slowly, by small steps, by small concessions, but we have come to this situation.
We know Mikhail Roginsky as an outstanding artist of Russian, or rather, Soviet pop-art, which the artist himself called the "documentary" style. Well, right. "Russian pop art" in its philosophical essence is not an analogue, but an antagonist of the American one. Overseas, pictures of colorful goods and household items glorified or criticized the culture of the consumer era. But behind the Iron Curtain, any pictorial play with squalid consumer goods turned into a poetry of despondency and hopelessness. Roginsky's primuses, kettles, and gas stoves were proof of this philosophy. Symbols of equalization, uniformity and eternal scarcity.
Our atmospheric picture is of the same kind. However, it is about something else. As we were recently reminded, entropy increases in all closed systems. If nuts are tightened strongly in one place, it will start to break through in unexpected places. The late Soviet Union experienced a "blowout" not only in kitchen conversations, but also in drunkenness, in communal quarrels, and in adultery. This is probably what Roginsky's story is all about. The lady is fully "armed" and exhausted, and her lover is wandering around somewhere.
Roginsky's works are rare on the Russian auction market. He is an expensive, important artist whose works we recommend for inclusion in investment collections.
NEIZVESTNY Ernst Iosifovich (1925–2016) Steel dreamer. 1977. Oil on canvas. 70 × 90
"Steel dreamer" is a centaur, a favourite character in Ernst Neizvestny's work. But only a half-human-half-animal in his interpretation appears as a half-machine. A symbiosis of a hero and an automaton. Nowadays people would use the term "artificial intelligence", but at the time Neizvestny worked the future was still seen not as algorithms, but as machines. Neizvestny had always admired heroes who were capable of heroic deeds, sacrificing themselves for their beliefs. He probably felt them as his own alter ego. Neizvestny was a hard man himself. A front-line soldier who had miraculously survived a serious wound (he was presumed dead). A daredevil who was not afraid to contradict the top political leadership of a totalitarian country. A man with a stance. This boldness, this seething masculine energy has become an integral component of his best sculptures and paintings. And "Steel dreamer" is certainly one of them.
SVESHNIKOV Boris Petrovich (1927–1998) Fallen leaves. 1987. Oil on canvas. 90 × 70
Boris Sveshnikov. Artist of the 1960s. Former camp prisoner. Nonconformist.
"Fallen leaves" is a nearly one-meter long canvas of a valuable period. Published in the catalog "Free in a World of Unfreedom". This is 1987. Multi-faceted, complex Sveshnikov: a mosaic within a mosaic and a powerful philosophical subject, which can be parsed for hours.
PLAVINSKY Dmitry Petrovich (1937–2012) Seahorse. 1963. Paper, ink, watercolor. 53 × 36
Plavinsky's 1963 watercolor "Seahorse" comes from the collection of the well-known dissident Andrey Amalric — historian, writer, "anti-Soviet", who had passed through the camps and mental institutions.
Dmitry Plavinsky is one of the first names of the unofficial post-war art. He himself defined his style as "structural symbolism". Artist popular and expensive. The auction record for his works is $ 211,000 and was established not so long ago — in 2015.
GROSITSKY Andrey Borisovich (1934–2017) A detail of the latch. 1998. Canvas, see t. 70 × 50
The metaphysics of the object world in the poetry of things by the prominent artist of the 1960s Andrey Grositsky. Just a few days ago it became known that the artist's family and the gallery, with which he worked in recent years, had begun to create a catalogue-resume of paintings — a complete catalogue of all the known artist's works. The edition is expected to hit the bookshelves by the artist's 90th birthday, in 2024.
CONTEMPORARY ART
SAVKO Alexander Andreevich (1957) Midday. 2017. Acrylic on canvas. 80 × 100
Alexander Savko is the main representative of Russian palimpsest — a genre of creative reinterpretation of classical subjects. Savko's constructions are based on hilarious absurdity and humor. But not everyone has a sense of humor. In jokes, they have recently been looking for fierce treachery. They find what to be offended at. But why only recently? Savko was first accused of extremism in 2011. A court in Tarusa recognized as extremist his palimpsest "Sermon on the Mount" from the series "Mickey Mouse's Journeys through Art History" (which combined images of Mickey's head and Jesus from an engraving by Julius Schnorr von Carolsfeld).
"Midday" — is an absurdist adaptation of the plot by Deineka, Vera Mukhina and an unknown author. Hot steel women of the collective farm run out of the water. But, unlike Deineka and Mukhina's version, they are completely naked. Effervescent Savko is in his repertoire.