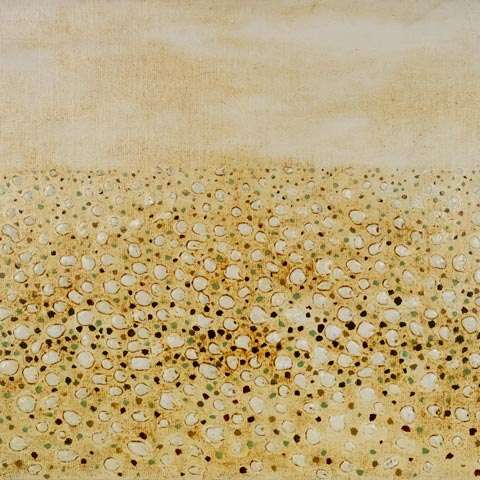 1960s UNOFFICIAL ART
VULOKH Igor Alexandrovich (1938–2012) Details. 1972. Canvas on hardboard, oil. 60 × 90
Vulokh of the highest order. One-of-a-kind. Exceptional quality. 1972! The author kept the intrigue by calling the painting as abstract as possible — "Details". But connoisseurs know that Vulokh's works are almost never purely "abstract". Streaks of lines and scratched "strokes" usually contain coded landscapes or seasons. Here, too, the viewer may discern rather a pebble beach or a field of flowers, or even an alien view. The work is beautiful, complex, and multi-faceted. The bottom half is not a flat painting, but a relief textured composition.
Igor Vulokh was a sixties man, an aesthetic nonconformist, a master of meditative conventionality. Vulokh's paintings were loved by Costakis and his circle. And today Vulokh's work as if rediscovered by collectors of the new generation. His works are hits of our auction. Note that the prices of Vulokh's paintings over the past three years have increased two or three times for a comparable range.
KRASNOPEVTSEV Dmitry Mikhailovich (1925–1995) Stones. 1964–1965. Hardboard, oil. 38.5 × 43.5
Meditative chamber still life. This picture simply breathes silence and harmony. Still life "Stones" refers to a particularly valuable period in the work of Dmitry Krasnopevtsev. In the corner is the date: 64. But the main connoisseur of the artist's work, Alexander Ushakov, said that it would be more correct to date it at two years. It was started in 1964 and completed in 1965. At one time it was bought from Krasnopevtsev by the famous Moscow collector Yakov Rubinstein. And already in the 2000s, it was sold at Sotheby's and McDougalls auctions.
Krasnopevtsev is an artist who lived above his era. It is impossible to determine from his paintings that they were painted in the USSR. Stones, shards, shells became the artist's favorite tools for describing eternity.
PIVOVAROV Viktor Dmitrievich (1937) Bounce and fly. 2020. Oil on canvas. 52 × 44
Viktor Pivovarov was a prominent representative of Moscow conceptualism, a member of the so-called Sretensky Boulevard group, which included Kabakov, Yankilevsky, Sobolev-Nolev, and others. Pivovarov worked in magazine illustration to make a living (he is the author of the logo of the Funny Pictures magazine known to all Soviet children). And for the soul and eternity he painted conceptual pictures, with special riddles and daring metaphors.
"Bounce and fly" (not to be confused with "take off") is a characteristic piece in Pivovarov's style. It has his trademark paradox and distinctive, unlike anything else, language. The picture was painted in 2020 in the Czech Republic, where the artist and his wife left in the days of the late Soviet Union. But in spirit, manner and execution it is as "sixties", as if it was painted more than half a century ago.
VECHTOMOV Nikolay Evgenievich (1923–2007) Cloud. 2000. Hardboard, oil. 40 × 70
This "Cloud" by Nikolay Vechtomov has hung for twenty years in a famous private collection. Bright, with his trademark biomorphic subject, it is an adornment of any collection. Vechtomov is an artist of Lianozovo group, a representative of biomorphic cosmism. As in the case of Vulokh, it can be noted that in recent years, his work became a hit of our auction. And the prices for the master's works have increased by two or three times.
NEMUKHIN Vladimir Nikolaevich (1925–2016) Game of the Rooster. 1998. Canvas, acrylic, collage. 80 × 60
A rare plot and a good year — that's what sophisticated collectors of the art of Lianozovite Vladimir Nemukhin hunt for. And also the complex composition, and the large size. No wonder the expert Valery Silaev attributes this painting to the works of museum value.
NEMUKHIN Vladimir Nikolaevich (1925–2016) Suprematist ostrich egg. 2007. Ostrich egg shell, hand painted. Height: 15 cm
Before us is a great rarity and an absolute collector's luck! This is not porcelain and not some kind of pre-launch experiment in ceramics. This is a real ostrich egg, hand-painted by Nemukhin. It is exactly the same size as the porcelain suprematic eggs made in Germany. And this, of course, is no coincidence.
1970s UNOFFICIAL ART
SITNIKOV Alexander Grigorievich (1945) Eros. Philos. Agapi. 1996. Canvas, oil, collage. 80 × 80
Alexander Sitnikov (not to be confused with Vasil Yaklich) is a seventies representative of naive-ironic lyricism. His plots are usually based on mythology, legends, historical allusions. So this time too: Eros, Philos and Agapi are the three forms of love in Greek. Eros is passion. Phylos — friendship. Agape or agapi is love for one's neighbor, a selfless form. The artist has given us all the clues, and then the work of the viewer begins.
RUSSIAN AVANT-GARDE
FONVIZIN Artur Vladimirovich (1882–1973) Horsewoman in white. Sheet from the Golden Series. 1956. Paper (blotter paper), watercolor, gold. 28.5 × 23.5
Arthur Fonvizin is commonly referred to as one of the "Three Fs" (Falk, Favorsky, Fonvizin), who are considered the forerunners of post-war nonconformism. For a generation of young unofficial artists, Fonvizin was a moral authority — a symbol of resistance to the dictates of socialist realism. In 1937, Fonvizin was persecuted for his formalism. During the war, he and his family were deported to perish as unreliable Germans. But fate saved the artist each time. Fonvizin's Golden Series, a cycle of wet watercolors where he used gold paint, is considered one of the pinnacles of his work. The work comes from the family of Fonvizin's heirs. The authenticity is confirmed by the expert opinion.