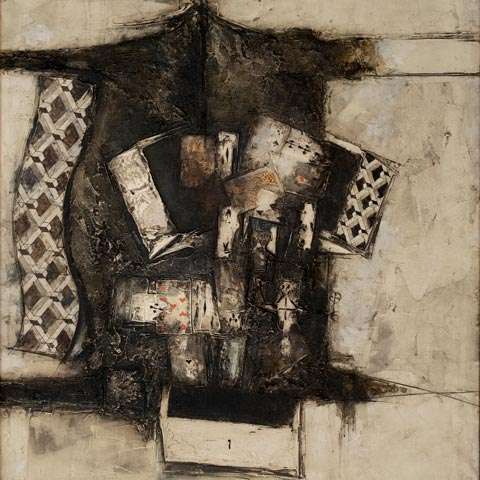 MASTERPIECES
NEMUKHIN Vladimir Nikolaevich (1925–2016) Card table. 1967. Canvas, oil, collage. 100 × 83
Before us is one of the most significant works by Nemukhin ever sold at world auctions. And even more so in Russia. Undoubted masterpiece. Expert Valery Silaev considers it among the best of those that he had to attribute. By the way, long ago in 2006, a similar work of the same time, size and theme was sold at Sotheby's for $ 240,000 and set an auction record for the artist's work, which has not been beaten up to this day. The work has impeccable provenance. It comes from the legendary collection of Alberto Sandretti. Recall that he is an Italian entrepreneur, who represented the company FIAT in Russia in the 1960s. On one of his first business trips to the USSR, he immersed himself in the environment of unofficial art. He became friends with the members of the Lianozovo group and over the years bought hundreds of selected works. Later, Sandretti did important work in introducing unofficial Russian art to the West. In particular, in 2007, Italy hosted an important exhibition entitled "Arte Contro. Ricerche dell'arte russa dal 1950 ad oggi" ("Art Against. Researches of Russian Art from 1950 to the Present"). It was not the first time that Nemukhin's "Card table" took part in it. A catalog was issued for the exhibition, in which this work was published. Later the catalog of the Sandretti Foundation was also published in Russian.
The work is dated 1967. With cards and with signature textured emulsions. Today it seems that cards have always been present in Nemukhin's work. But in fact he began to develop this theme only in the early 1960s. So "Card table" is the initial, most inspired period. The thing is a masterpiece. Unique for the Russian market. And its museum significance is confirmed by the very fact of its participation in European museum exhibitions.
1960s UNOFFICIAL ART
BELENOK Petr Ivanovich (1938–1991) Beginning. 1990. Hardboard, mixed media. 121 × 91
Unusual, complex, conceptual Belenok. 1990 is the penultimate year of the artist's life. During this period, Belenok's reflection reaches the highest level. And, probably, the peak of creative development of his idea of "panic realism" falls on this time. "Beginning" is a work rare in its construction. If usually Belenok's formats gravitate towards expressionism, in this case it is more of an example of Moscow conceptualism: a man from birth is caught in a spiral of circumstances, a cycle of energies, in a labyrinth of conflicts, from which he is searching for a way out all his life. Amazing job. It is museum-like in its conception and museum-like in its format — over a meter.
Petr Belenok — the innovator of post-war unofficial art. Many people rightly consider his fate as a vivid example of internal revival. The comfort of a provincial manufacturer of "bread" busts of Lenin Petr Belenok exchanged for the hardships of an independent artist. During his lifetime, he was little understood by his contemporaries. Only seers and visionaries like Costakis were able to see his potential. But today, interest in his work is experiencing a real renaissance. Belenok's themes and formats turned out to be extremely consonant with our time. It is therefore quite natural that his best works began to rapidly enter the important collections of new collectors.
ZLOTNIKOV Yuri Savelievich (1930–2016) Night. Sea. 1981. Oil on canvas. 90 × 120
Zlotnikov's canvas appears for only the second time in auction history. And, like the last time, we have it. Logically, the painting can be considered paired with "Sea. Autumn", which we sold a month ago. There it was a bright day and here it's a dark night. "Night. Sea" was painted in the Crimea, in Koktebel. Zlotnikov sold it through the system of the Fund of the Union of Artists of the USSR, from where it ended up in Viktor Galkin's collection.
Formally we are facing an abstract landscape. If you wish, you can even distinguish a figurative basis in it. But there is an opinion that it is a coded version of "signal systems", where the elements of the palette are used for a given excitation of the nervous system.
The concept of "signal systems" invented by Zlotnikov, in fact, begins the chronology of the official history of unofficial art. His name is listed on the very first pages of the guidebook "Other Art". Yuri Zlotnikov is deservedly considered one of the main innovators of the Soviet post-war abstraction. The authenticity is confirmed by the expert conclusion of Valery Silaev.
KRASNOPEVTSEV Dmitry Mikhailovich (1925–1995) Crab. 1960. Masonite (cardboard), oil. 36 × 47.9
We first saw this picture in photographs. And when they brought it to us live — once again we were amazed at how much good pieces are lost in photos. It's much better in real life. The sparkle, the contrast make  a completely different impression.
Recall that 1960 is a transitional year. Krasnopevtsev moves away from polychrome laconicism to "monochrome". His oil works at this time become graphically rigorous. And our crab is a vivid example of that.
Dmitry Krasnopevtsev is a master of metaphysical still life. His paintings were bought by Richter, Costakis and other iconic collectors of his time. Today, Krasnopevtsev's works are among the most expensive and sought-after pieces of unofficial postwar art.
KASATKIN Nikolai Ivanovich (1932–2019) Moonlit night. 1967. Oil on canvas. 60 × 80
Nikolai Kasatkin was a sixties artist who was close to the Sretensky Boulevard group. He was friends with Bulatov and Vasiliev, but remained a loner in the creative line. The "Moonlit night", written in 1967, is a "soft" painting of the early romantic period. The trademark "double optic" — "picture in picture" — will appear in Kasatkin's work much later. Meanwhile, one can feel that Kasatkin pays tribute to Levitan's optics and Van Gogh's pictorial constructions. At the same time, we already have an absolutely recognizable Kasatkin, with his own style.
KUPER Yuri Leonidovich (1940) Tulip. Plywood, oil. 64 × 88
The works of the sixties artist Yuri Kuper have the striking property of not clashing with any stylized interior. They will be appropriate both in an "antique" apartment and a "high-tech" apartment. On the one hand, Kuper is an heir to tradition. He is inspired by the works of Leonardo and Fra Angelico. He loves the sfumato effect developed by Leonardo. But at the same time Kuper's paintings are completely modern, and many of the techniques are the artist's own know-how.
"Tulip" is perhaps Kuper's flagship theme. His "crowning", most recognizable and most marketable subject. It's the kind of thing that collectors tend to go after.
YAKOVLEV Vladimir Igorevich (1934–1998) Portrait of a woman. 1990. Paper, gouache. 55 × 38
An example of a psychological abstract portrait, which along with the lonely flower is a trademark of Vladimir Yakovlev. The gouache has an impeccable provenance, participated in several exhibitions and published in two catalogs: "Masterpieces of Vladimir Yakovlev" (2005) and "Vladimir Yakovlev. Portrait of the Wind. To the 85th anniversary of his birth" (2019).
RUSSIAN CLASSICS
BENOIS Alexander Nikolaevich (1870–1960) My work room at Stratton House Hotel. 1947. Paper, ink, watercolor. 25.5 × 35.5
Before us is a signature late watercolor by Alexander Benois, an artist, critic, art historian, founder of the "World of Art" association and artistic director of Diaghilev's "Russian Seasons". Many people remember him for his watercolor "The King's Walk" from the Versailles series, which is exhibited in the Tretyakov Gallery. The artist emigrated in 1926. He lived and died in Paris.