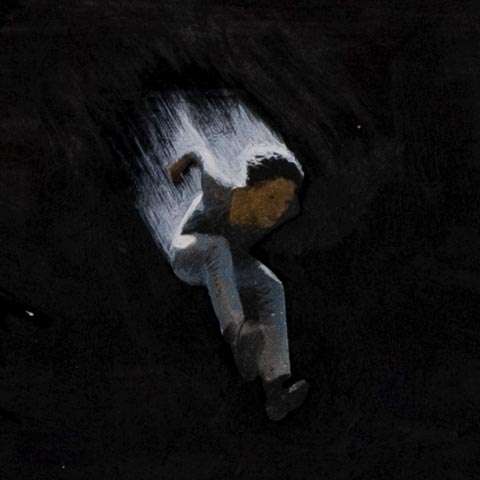 1960s UNOFFICIAL ART
BELENOK Petr Ivanovich (1938–1991) Day and night. 1975. Hardboard, oil, collage, author's technique. 109 × 66
This is a rare thing. If it were not for Belenok's proprietary term "panic realism", then one might think we were looking at an example of Moscow conceptualism in terms of construction, composition, and philosophy. There are intersecting planes, spectacular dynamics, and austere palette. Museum level. The painting is published in the recently published catalog of Belenok's exhibitions and is accompanied by the expertise of Valery Silaev.
Former official sculptor Petr Belenok exchanged a well-fed life in Ukraine for the thorny path of an underground artist in Moscow. He lived in poverty. And today he is one of the most sought-after artists of the post-war unofficial art. Prices for the best paintings have doubled over the past year and are regularly storming the million-ruble mark.
NEIZVESTNY Ernst Iosifovich (1925–2016) Icarus. 1977. Oil on canvas. 70 × 90
Most of Ernst Neizvestny's works are, in one way or another, a discourse on predestination. Prometheus, Jesus, Icarus... Was Icarus' act a recklessness or a deliberate choice? Why are there few "real rioters"? Why do people not strive to rise higher and do not understand other people's passion for the unknown?
Ernst Neizvestny himself was a violent type. He could interrupt an irritated minister and put him in his place. He could argue with Khrushchev and even shout at the Minister of State Security. He could fight for his place in art with the Soviet sculptural mafia for decades. Finally, at 50 he had the courage to radically change his life and leave the USSR forever. "Icarus" is a painting painted in the early years of emigration. An important, mainstream theme. Vigorous painting. Consulted by Olga Neizvestnaya. Museum level.
SITNIKOV Vasily Yakovlevich (1915–1987) Field. Morning fog. 1970. Lead pencil, pastel crayons, oil on paper. 64 × 88
Legendary Vasily Sitnikov. For some, Vasily the Lanternman (so they called him because he showed slides on a projector at the Surikov School). For others, he was Vasil Yaklich. Self-taught, a man with no formal art education, he not only occupied an important place in the constellation of names of the "second avant-garde", but also left an army of students — graduates of Sitnikov's school. Vasil Yaklich's lessons helped Vladimir Yakovlev's talent to unfold. Among his students were Alena Kirtsova, Vladimir Titov and many others.
Sitnikov was a virtuoso painter. And he loved demonstrative trickery. In front of the astonished audience he could paint a composition with a floor brush and any improvised means. But this was rather an exception. Most of his works were made painstakingly and subtly. As well as presented today "Field. Morning fog".
Part of Sitnikov's artistic method was to work with the works of his students. He was inspired by their ideas, took them as a sketch and then perfected them. And we have just a documented episode of such refinement. On the margins of the upper and right edges is the author's inscription: "This drawing is educational — by my student Ushakov, but I worked on it myself for a long time and therefore it became mine. I am Vasily Yakovlevich Sitnikov, born in 1915. Drawn with oil on Whatman paper". The authenticity of the work is confirmed by the expert opinion of Valery Silaev.
The work was done in 1970, five years before emigration. Vasily Sitnikov died in the United States in 1987.
SLEPYSHEV Anatoly Stepanovich (1932–2016) Women bathers. 2001. Oil on canvas. 50 × 80
"Women bathers" is a subtle, light and sensual work. Pasty, embossed, but at the same time airy in the Fonvizin style. Which is no coincidence, because Slepyshev considered Arthur Fonvizin to be his teacher. And today, it is difficult to imagine what was on the minds of "art critics in civilian clothes" when in the 1970s they removed Slepyshev's paintings from exhibitions for pornography. And this was done more than once or twice. This happened at the exhibition in the pavilion «House of Culture» at VDNKh in 1975. Such was the case at the scandalous exhibition at the Istra Museum in 1976, when young Soviet art critics stood up for the artists. But Slepyshev was not part of the active political wing of the nonconformists (like Rabin or Rukhin). He studied under Deineka. He was a member of the Union of Artists since 1967. He exhibited in the official halls and at solo and group exhibitions. The artist was quite successful during his lifetime. At one time, emigrants took his works with them to Israel. Exported as "currency". Interestingly, Slepyshev was one of the few artists whose paintings were exhibited at the first and last Soviet Sotheby's in 1988.
The painting "Women bathers" is signed and dated on the back.
KOSHELOKHOV Boris (Bob) Nikolaevich (1942–2021) Family. 2012. Oil on canvas. 119 × 140
Bob Koshelokhov, a legend of St. Petersburg nonconformism, passed away last week. Coronavirus. His works of the 1960–1970s were made under the influence of the itinerant philosopher Valery Kleverov. That man taught the artist to do without canvases and paints, and to use only what he could find in a garbage dump to create his works. So first it was assemblages of furniture scraps and utensils. And sometimes even ready-made conceptual works. According to legend, Bob Koshelokhov was almost the only one not detained on the way to the memorial exhibition of Evgeny Rukhin, who died in a fire. The police grabbed everyone with paintings in their hands, but Bob was carrying an assemblage with a medical duck. In the late 1970s, Koshelokhov became one of the leaders of the Leningrad unofficial art. He came up with the association "Chronicle", and later became the ideologist of the Association for Experimental Fine Arts.
A punk-looking artist, he came to painting after all. At first, Koshelokhov painted in oil on pillowcases and mattress cloth. And in the 2000s, he switched to ordinary canvases. But despite the glamorous materials, his painting retains the expressiveness and rebelliousness for which collectors appreciate him.