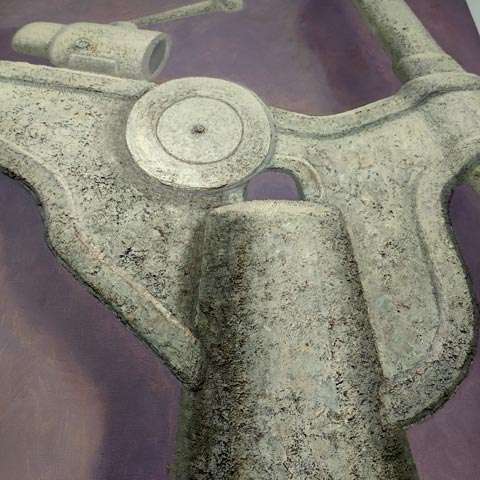 MASTERPIECES
GROSITSKY Andrey Borisovich (1934–2017) White device. 1997. Oil on canvas, mixed media. 140 × 110
An exemplary work by the "poet of things" Andrey Grositsky — large-scale, museum-level, with an exhibition history. What kind of "white device" is a mystery. But it is not a matter of principle. It could be a fragment, part of some beautiful construction. For Grositsky, not only aesthetics was important, but also the spirit of the object. The metaphysics of the object world remained his field of research throughout his life. He transformed shovels, meat grinders, rusty latches into semi-abstract portraits of things of stunning beauty and depth. Grositsky was an artist in the orbit of unofficial art. He participated in a high-profile exhibition in the pavilion "House of Culture" at the VDNKh in 1975, and later in the exhibitions of the City Committee of Graphic Artists at Malaya Gruzinskaya. After perestroika, Grositsky's solo exhibitions were held in the Tretyakov Gallery and the Museum of Moscow.
YAKOVLEV Vladimir Igorevich (1934–1998) Red flower. Late 1960s — early 1970s. Gouache, tempera on paper. 50 × 50
Yakovlev of museum significance. Expert Valery Silaev notes that each work by Vladimir Yakovlev of such quality is unique and of great value.
"Red flower" dates from the late 1960s and early 1970s. Yakovlev is about 30. This is the period of his creative heyday. Flowers at this time became the artist's "calling card". At that time, Yakovlev's touching, defenseless flowers were bought by doctors, scientists, writers, poets, representatives of the Soviet intelligentsia.
YANKILEVSKY Vladimir Borisovich (1938–2018) Self-portrait. 1993. Cardboard, pastel, pencil, collage. 60 × 80.5
Before us is a rarity. A great work by one of the main innovators of unofficial art, Vladimir Yankilevsky. In this "Self-portrait" one should not look for external resemblance — there is nothing in common with the profile of Yankilevsky. It is a conceptualist self-portrait — with a head filled with thoughts, fears, doubts and desires. It is a scheme, an anatomical poster that accommodates feelings and the space of experience. For this work, Yankilevsky does not accidentally resort to a special form of collage: the artist does not cut out, but tears out fragments with feelings and glues them on the background. Don't expect symmetry and smooth edges. This is a hint of conflicts, of passive aggression and other forms of emotional violence that a person experiences in society.
Vladimir Yankilevsky was an artist of the Sretensky Boulevard circle, which included Kabakov, Sooster, Pivovarov, Sobolev-Nolev. Together with Neizvestny, Sobolev and Sooster, he took part in the high-profile Taganka exhibition and in the Manege in 1962, where Khrushchev called his pentaptych "daubs".Yankilevsky was the creator of the program cycles "Space of Experiences", "Anatomy of Feelings", "Self-portraits", "People in Boxes", "Moment of Eternity". The topic of his research was not only eternal questions (masculine — feminine — universe — man and time), but also the nature of conformism, adaptation and variability of a person in an aggressive society.
SHULZHENKO Vasily Vladimirovich (1949) Narcissus. 2013. Oil on canvas. 120 × 84
According to Greek myth, the beautiful Narcissus, son of the river god, fell in love with the mountain nymph Echo. She followed him. Narcissus to her: "Who's there?" And she answered: "Who's there?" Narcissus chased away the nymph in love. The unhappy woman died of unrequited love — she wilted and dried up. Only a voice remained, capable of repeating other people's words. The gods punished Narcissus. They put a curse on unrequited love. As a result, Narcissus fell in love with himself when he saw a beautiful reflection on the water. And, like his Echo, he died unable to tear himself away from his image. And in that place, a beautiful flower grew, tilting its petals toward the water.
And today we have Narcissus in Russian. As read by the uncompromising pathologist of Russian reality and poet of the "deep people". The artist Vasily Shulzhenko was almost accused of Russophobia for his painting "Latrine" and was subjected to a barrage of criticism, but he remained true to himself. Today he is one of the most sought-after artists by a growing number of daring collectors.
1960s UNOFFICIAL ART
NESTEROVA Natalia Igorevna (1944) Oysters. 2017. Oil on canvas. Oval 50 × 60
In "Oysters" by the amazon of the leftist Moscow Union of Artists Natalia Nesterova there is no complicated metaphor. Unless you count as a metaphor the call to enjoy life and catch pleasant moments: on a balcony by the sea with a glass of wine in hand, in conversations with smart people in a restaurant over oysters. The artist, by the way, is really a big fan of this gastronomic pleasure. Once, in an interview with Yuri Kovalenko, published in the book "Russian Palette of Paris", Natalia Nesterova said: "I generally love to depict all kinds of food, delicious things. What does a person do in life? Sleeping, walking, playing and eating... And all artists painted feasts, some kind of games, pastimes — while reading, while listening to music."
In short, we have before us the work not for experiences, but for contemplation, for the delight of the eyes, for simple human pleasure.
ZVEREV Anatoly Timofeevich (1931–1986) Portrait of Zinaida Costakis in a hat. 1960. Watercolor, whitewash, scratching on paper. 50 × 40
Zinaida Semyonovna Costakis is the wife of the legendary collector Georgy Dionisovich Costakis, the daughter of merchant Panfilov, a beautiful and hospitable hostess.
1960. Valuable period. Tachist style. Signed and dated in the lower left corner: АЗ60. Provenance: Costakis' collection. Museum value. Expert Valery Silaev notes that works from this period are rare in Russia.
MIKHNOV-VOITENKO Evgeny Grigorievich (1932–1988) Abstraction with green. 1970s. Paper, gouache, mixed media. 37 × 64
This is a graphic composition by the Leningrad sixties artist and abstract expressionist Evgeny Mikhnov-Voitenko, or simply Mikhnov, as they say in the reference books. A loner who eschewed any "politics" and did not participate in high-profile exhibitions, Mikhnov-Voitenko nevertheless remained in history as a vivid nonconformist and innovator of abstract painting. There is an opinion that he surpassed his European and American colleagues in a number of artistic and technical discoveries. But now it is a debatable question, since the "iron curtain" reliably shielded from a dialogue of cultures.
In Soviet times (he did not live in other times, died early at 56) Mikhnov-Voitenko worked as a turner, studied at the Pedagogical Institute of Foreign Languages, at the Theater Institute at the production department, drew signs at an art combine, decorated restaurants and palaces of culture. For a long time his powerful abstractions were seen only by friends and a narrow circle of "insiders". Colleagues hardly persuaded Mikhnov to apply for his first solo exhibition, which was held in 1978, 10 years before his death. "Abstraction with green" probably dates from the mid-1970s. An indisputable work and a real jewel in the collection.
DYNNIKOV Viktor Pavlovich (1939–2005) Still life. 2000s. Oil on cardboard. 47 × 58
Radiant landscape, bright colors, fusion of fauvism and expressionism. Viktor Dynnikov is a bright representative of one of the alternative branches of the Vladimir school. Why alternative? It is believed that he was in confrontation with the coryphaei — with Britov, Yukin, Kokurin. Dynnikov came to Vladimir from Leningrad in the 1970s, when the phenomenon of the Vladimir school of landscape painting had already been discovered. Someone will say: "He came to the ready-made". It is so and not so. Dynnikov is recognizable. Self-identified. More melancholic. Often his still lifes are dark. But that's not the case here. Today at the auction "Dynnikov of good mood" is a still life that brings light into the room even with the windows closed.
WEISBERG Vladimir Grigorievich (1924–1985) Nude. 1970s. Watercolor on paper. 28.5 × 25 (in light)
Classic Weisberg graphics from the 1970s. Nudes. Drawings made in one pass. Analogs can be found in the book by Anna Chudetskaya.
CONTEMPORARY ART
NASEDKIN Nikolay Nikolaevich (1954) Ferapontovo. Spruce. 2003. Oil on canvas. 82 × 100
A former ward attendant of the violent department of a psychiatric hospital, who has seen a lot, with a menacingly powerful pastel painting. Nikolay Nasedkin is one of the most powerful abstract expressionists. With work of museum significance. "Ferapontovo" has everything that Nasedkin is appreciated for — pastose black, energy, atmosphere.