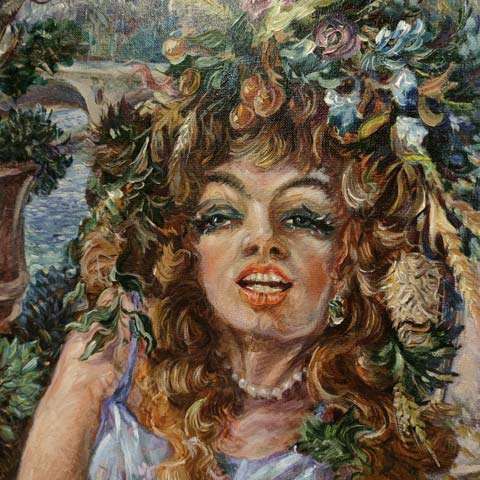 1960s UNOFFICIAL ART
KALININ Vyacheslav Vasilievich (1939) Flora's Feast. 1983. Oil on canvas. 107 × 93
"Flora's Feast" is definitely one of the top 3 most lyrical paintings by Vyacheslav Kalinin that we were lucky enough to sell. It's light, airy and very distinctive. But at the same time it will please even those who can't stand "critical realism" in the artist's subjects. There are no drunks, no hoodlums, no bums from Zamoskvorechye. Only beauty and romance. The work belongs to a particularly valuable period — it was painted in the early 1980's. Moreover, it is published. This very work is reproduced in the monograph "Vyacheslav Kalinin. Moscow — Zamoskvorechye. Retrospective. 1962–1990", published in 1991 by the publishing house "Znanie" ("Knowledge") (see p. 154). Ideal for a collection.
Kalinin is a man of the 1960s, an artist of unofficial art, close to the Lianozovo group. The artist was expelled from the Abramtsevo School for outrageous paintings presented at one of his first exhibitions. Later he was forced to work semi-underground. Kalinin was a participant of a resonant exhibition in the Beekeeping Pavilion at the VDNKh in 1975. And a year later, after the opening of the "city committee of graphics" on Malaya Gruzinskaya, he began to exhibit there as part of the "seven" with Krasnopevtsev, Nemukhin, Kharitonov and others.
Today, Vyacheslav Kalinin is one of the most sought-after authors. Demand for his work is growing before our eyes, and prices for his paintings have almost doubled over the past two years.
KRASNOPEVTSEV Dmitry Mikhailovich (1925–1995) Vase and Two Shells. 1959. Oil on cardboard. 40 × 57
In the upper right corner of this painting there is a signature and date: KRASS / 59. And on the back is a mysterious donation: to Dürer from Krass / Moscow / 6 Apr. 59 y. / DKrass. As for "Krass" — all is clear. But what about "Dürer"? And here the main connoisseur of Krasnopevtsev's work — Alexander Ushakov — came to our aid. Herman Perebatov, a Vladimir artist who proved himself as a very talented graphic artist, was nicknamed "Dürer" by fellow students at the Surikov Institute. He liked the nickname, he called himself "Dürer from Vladimir". They were close friends with Krasnopevtsev. And sometimes they gave each other some works. Alexander Ushakov will include this painting in a future catalog of Krasnopevtsev.
MASTERKOVA Lydia Alekseevna (1927–2008) Still Life with Flowers and Lemons. Copy from a painting by P. Picasso. Late 1950s — early 1960s. Oil on canvas. 60.5 × 48
Lydia Masterkova was an "Amazon of the second avant-garde", a famous artist of the 1960s, a member of the Lianozovo group. "Still Life with Flowers and Lemons" was painted, most likely, after 1956, when a large exhibition of Pablo Picasso was held in Moscow. For the artistic life of the country it was a major event. Reproductions and postcards were everywhere. Masterkova's painting was inspired by Picasso's 1941 still life of the same name. For her it became a research analytical work — a dissection of Picasso's artistic method. The thirty-year-old artist changed the proportions and symbolically crossed out the lemons as a distraction for the composition. The authenticity of the painting has been confirmed by the expert opinion of Valery Silaev.
ZVEREV Anatoly Timofeevich (1931–1986) Self-portrait. Second half of the 1950s. Watercolor on paper. 52 × 41
A confessional philosophical self-portrait of a particularly valuable period — the late 1950s. He comes from the family of the neurologist Umansky, who treated Zverev. Assertive Tashist manner, rebellious character. Valery Silaev in his examination calls this work a unique and rare work of museum value.
KHUDYAKOV Konstantin Vasilievich (1945) Skull for New Adam. 2017. Stereo light panel. 75 × 75 × 7
Konstantin Khudyakov's stereo light panels are extremely recognizable and widely known. Three years ago, his works decorated the lobby of Fonvizinskaya metro station. Three-dimensional light boxes for collections are made using even more sophisticated technology. In the standby state, they look like a mirror. But as soon as you approach them, a motion sensor triggers and a three-dimensional image, modeled by the author on the computer, appears on the "mirror". To create one such object, it is required to synthesize 240 image files for one light transmitting surface. Today we have "Skull for New Adam", a famous work from the resonant project "Stereopocalypse". A symbol of the rebirth of man into "the other".
Konstantin Khudyakov is an artist of the 1970s, a representative of the generation of the "young city committee". He exhibited as part of the "twenty" on Malaya Gruzinskaya, together with Semyon Faibisovich, Petr Belenok, Sergey Simakov and others.
YURLOV Valery Ivanovich (1932) A pair of forms. 1958. Oil on canvas (burlap). 54 × 68
Connoisseurs of Valery Yurlov's work, of course, immediately recognized the construct. Yes, we are facing a "pair of forms" — the main conceptual construction from one of the main non-object artists in post-war art. The concept of "pair of forms" analyzes two states of an object — before and after the influence of the environment or time. Yurlov came to this idea unexpectedly — observing how the sea threw a broken tin can onto the shore. Under the Soviet regime, the artist worked "into the table". He was not given a chance to show his abstract art in the official halls. He earned money as a book illustrator at "Detgiz". The rare buyers of his paintings in those days were foreigners introduced to him by friends.
We're looking at a rare piece. Never exhibited. It spent more than sixty years in a Moscow collection.
BELENOK Petr Ivanovich (1938–1991) Luck. 1985. Paper, ink, collage. 86 × 61
A characteristic, large, spectacular and well-preserved work on paper by the inventor of "panic realism", Petr Belenok. Died in poverty, today he is one of the most sought-after artists. His works are rapidly increasing in value. Prices for works of a comparable class have doubled in the past two years.