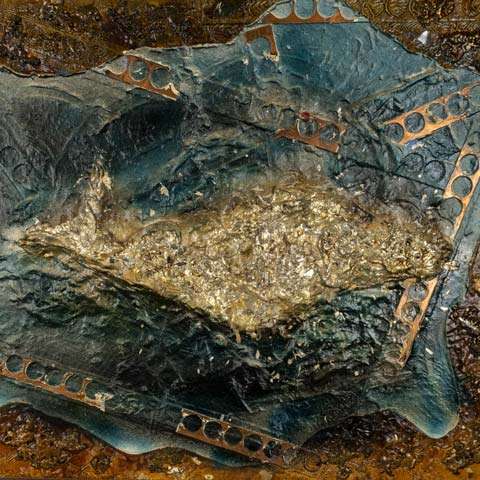 1960s UNOFFICIAL ART
BORUCH (STEINBERG Boris Arkadievich, 1938–2003) Fish in nets. 1973. Hardboard, oil, enamels, mixed media. 76 × 100
"Fish in nets" is not just a painting, but a piece of history. It has an outstanding provenance. In fact, almost everyone who is interested in the history of unofficial art has seen it. After all, it is against the background of this painting that Boruch stands in the famous photograph by Vladimir Sychev from the Izmailovo exhibition. It is often confused with the Bulldozer exhibition, to which Boruch almost missed. But these are different exhibitions. The Izmailovo open-air exhibition took place on a warm autumn day on September 29, 1974. It was an attempt by the authorities to make up for the disgraceful beating of artists in a wasteland in Belyaevo. After a storm of international public reaction, the authorities allowed a free exhibition for 4 hours (the so-called "four hours of freedom"). No posters, no announcements, but still thousands of people and happy artists, most of whom were able to present their work to the public for the first time.
Boruch was the pseudonym of Boris Steinberg, son of Arkady Steinberg and brother of Eduard Steinberg. Considered a talented poet by his family, Boruch never published a line of his poetry, but became one of the most brilliant figures of unofficial art. He was an uncompromising and independent figure. It was hard for the state to put pressure on him. He did not go to the service, did not work in publishing houses and art factories. He lived from the sale of his paintings, which were mostly bought by foreigners.
VULOKH Igor Alexandrovich (1938–2012) Triptych. 1998. Oil on canvas. 60×100.5
Buying "the piece from the cover" is a special chic in collecting. After all, it is usually the best work of the exhibition that gets on the cover of the catalog. An unmistakable option. Often such paintings are bought without haggling: they look at the poster or catalog and get their money.
And this is the case. It is this painting that graces the cover of the 2001 Vulokh exhibition catalog. Articles in it were written by Troels Andersen, Mikhail Bode, Elena Selina, Sergey Epikhin and Irina Filatova. In addition, this particular painting by Igor Vulokh participated in the exhibition "Moscow Undergroud" in Venice in 2012.
Let the name "Triptych" not be misleading. It is a single canvas with a composition divided into three parts. The important thing is that the canvas is large — one meter long.
Igor Vulokh is an artist of the orbit of unofficial art, a favorite of Costakis, a master of meditative conventionality. Over the past two years, his works have become hits at our auctions, and prices for them have increased markedly.
YAKOVLEV Vladimir Igorevich (1934–1998) Flower in a glass. 1973. Paper, gouache. 52×41.5
An unusual black flower by Yakovlev: with provenance, with publications, with expertise. It was once in the collection of Leonard Daniltsev, the poet of the SMOG group, who was friends with many unofficial artists. Drawing participated in the exhibition "Vladimir Yakovlev. Portrait of the Wind. To the 85th anniversary of his birth" in 2019 and published in the catalog on p. 36.
Flowers in the work of Yakovlev have a special symbolic meaning. The artist perceives them as animated, vulnerable and fragile beings. Expert Valery Silaev notes that the work may have museum value.
ZVEREV Anatoly Timofeevich (1932–1986) Portrait of O. M. Aseeva. 1978. Oil on cardboard. 52.2×36.4
A touching, inspired, subtle thing. The artist Zverev met the widow of the poet Aseev when Oksana Mikhailovna was in her seventies. But the artist still saw in her the young muse of the Russian avant-garde, who broke many hearts of the Futurists in the 1920s. Their relationship was always marked by emotionality and strangeness. With scandals and calls to the police. They fought and made peace. Zverev painted dozens of portraits of his muse. Jealous not only in life, but also in art. In particular, portraits of Nikolay Aseev's widow by David Sterenberg and other Russian avant-garde artists were eventually ousted from the walls of her apartment by portraits painted by Zverev. Valery Silaev notes the museum significance of this work.
VECHTOMOV Nikolay Evgenievich (1923–2007) Red planets. 1987. Hardboard, oil. 40×29.8
The painting is one of those about which they say "unseen". It has never been at auction before. A well-known, respected collector bought it directly from Nikolay Evgenievich in the common workshop of Vechtomov and Nemukhin. The painting is small, but bright, precise, inspired — the collector chose for himself, for the soul. Vechtomov that time again told about the war, about his misadventures and miraculous salvation. In his paintings, biomorphic structures and alien beings had long since taken up residence. But the prototype of Vechtomov's picturesque spots were the flashes of explosions he saw at the front. Today, the Lianozovite Nikolay Vechtomov is one of the most sought-after artists of unofficial post-war art. And such a work will be a jewel in any collection. The work is compact. However, for many experienced collectors, who find it difficult to find space on the walls, this will even be an advantage.
BULATOV Erik Vladimirovich (1933) Self-portrait. 2013. Giclee (print on canvas). 100×78
This low-run work by the living classic Erik Bulatov is the essence of the author's repetition of his famous painting "Self-portrait", painted in 2011. The giclee is signed and dated on the back. A shadow like the outline of a tunnel behind. A blue sky. And the railings — perhaps those that served as inspiration for the famous painting "Horizon", which became the artist's calling card.
Erik Bulatov is a bright representative of Moscow conceptualism. He was a member of the so-called Sretensky Boulevard group, which includes Kabakov, Yankilevsky, Vasiliev and others. Today Bulatov is the second in the ranking of the most expensive living Russian artists (the first is Kabakov). In 2008, his painting "Glory to the CPSU" was sold at a foreign auction for $ 2 million.
SVESHNIKOV Boris Petrovich (1927–1998) Heavenly stairway. 1995. Oil on canvas. 68×69
A beautiful work with a beautiful, romantic title. A stairway to heaven on which certain characters run up and down. Very distinctive and recognizable. Sveshnikov, who cannot be confused with anyone else. Mystical, philosophical and without a component of infernal gloom that not all collectors can "digest". Especially among beginners. Yes, Sveshnikov is a complicated artist. It sometimes takes years to understand and love him. In a philosophical sense, this is a club for the select few.
Sveshnikov paid a heavy price for the right to enthrall in his own worlds. His characters were born in the inflamed brain of a starving and sickly young man serving time in a camp. For Sveshnikov, 10 years were virtually a death sentence. The unsuspecting student was neither physically nor mentally prepared for such injustice. For many long months in the camps, he simply could not believe how this could happen, for what sins. It was a miracle that the artist survived. He was rescued by his fellow sufferers. They took him off the hard work and even created tiny opportunities to work as an artist.
Today Sveshnikov's works are bestsellers on the auction market. A very fortunate moment has arisen for collectors, when a dozen very strong works and masterpieces have appeared on the open market over the past two years. Experienced people are taking advantage of the situation, realizing that the window of opportunity won't be open for long. "Heavenly stairway" is an exemplary work from the mid-1990s. A collection jewel for those who want a recognizable Sveshnikov "without the horrors".
BUKH Aron Froimovich (1923–2006) Nude. 2002. Oil on canvas. 90×70
Impeccable provenance, large size, and Bukh's most sought-after subject. His sensual "nudes" are now in great demand by collectors. These nudes are not often found on the market and are usually worth two times, or even more, than the landscapes.
Bukh is a legendary artist. And not only as a creator, but also as a symbol of fearlessness in the search for himself. He completely turned his life upside down and began his artistic path anew when he was already over 60. After the anniversary Moscow Union of Artists exhibition, Bukh was deeply disappointed. Duty words, duty congratulations, duty gifts. And to the museum — sorry, there are many of you who are the same. And then the artist's eyes opened. Bukh understood everything. And burned everything. All his gloomy and unsightly socialist realism, in which he had been wandering for most of his life. There was nothing left to lose. Miraculously, in an instant, a new Bukh was born — a furious, frantic, greedily throwing himself into his work. Bukh, who is in a hurry to live and to feel.
ANDREENKOV Vladimir Emelyanovich (1930) Transformation (Female figure). 2006. Oil on canvas. 90×120
Vladimir Andreenkov is a sixties artist of the circle of Yuri Zlotnikov, Dmitry Prigov, and Boris Orlov. In his creative biography of the 1960s it is difficult to find heroic moments. Foreign exhibitions and catalogs appeared mainly after Perestroika. Before that, like many unofficial artists, Andreenkov worked on orders for the art factory and was engaged in book illustration. But already in the 1960s he began to create expressive abstractions, which were noticed by art connoisseurs. Note that our "Transformation" has two dates on the back — the year of creation (2006) and the year of origin of the idea (1962).