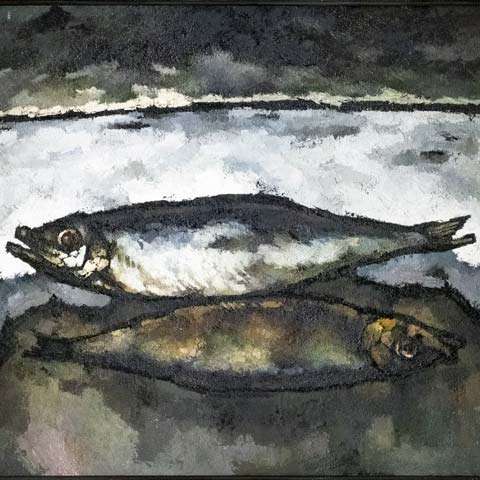 1960s UNOFFICIAL ART
RABIN Oscar Yakovlevich (1928–2018) Two fish. 1971. Oil on canvas. 82 × 99
"Find me a classic Rabin with a vodka-herring", is exactly the kind of request we have heard more than once from collectors of the "Lianozovo school". It would seem, what is so difficult? After all, this is the most famous system of images in the works of Rabin. A still life with vodka and herring is the first thing that comes to mind when the artist's name is mentioned. There should be as many of them as Nemukhin's cards. But just approach the question practically — and oops — no way. Paintings with fish are a run and search! In the last three years, we have come across only once. And here is luck! Fish. The whole two of them. Moreover, a valuable 1971, the pre-immigration period. Not to mention a one-meter museum size. Beautiful!
In Rabin's story, the attentive observer immediately considers several meanings: from social criticism to astrological allusions and sacred lines. Herring in times of scarcity is a cheap popular food, the snack of the poor, to a certain extent a symbol of the hardships of life. That is the first meaning: social. Let us go on. Two fish stacked in this way are usually the graphic designation of the corresponding zodiac sign. It just so happens that Pisces corresponds to this month — February 19 to March 20. Let's consider this to be the second meaning — mystical and astrological. And finally, there is a third, sacred meaning. "Ichthys", fish in Greek, is a word and symbol with which Christians in times of persecution and the Catacomb period addressed Jesus allegorically. Thus, for all its apparent brevity, we have before us a powerful philosophical work, multi-faceted, filled with frantic Rabine energy. Museum level!
PURYGIN Leonid Anatolievich (1951–1995) Rooster. Early 1990s. Oil on canvas. 183 × 142.5
Giant size, bright palette, bold imagery and conceptuality — in this work we see all the hallmarks of Purygin's work of the American period. In 1991, it was purchased by New York's Berman – E.N. Gallery, and 30 years later it was purchased at Sotheby's Escape Artists — The Non-Conformists Online auction.
The structures "Petrov is a fool, Sidorova is a bastard", and the mischievous rooster seem to have descended from the conceptualist paintings of Ilya Kabakov and Viktor Pivovarov. But Purygin, of course, is about something completely different. He is not a constructor of logical riddles, but first of all a creator of paradoxical, naive fairy-tale worlds. In them, as it should be in a fairy tale, there is a place for a miracle, a tragedy, a dream, and a happy ending.
It is hard to imagine that one of the most expensive artists in the orbit of unofficial art was self-taught. All of Leonid Purygin's education was a drawing circle in the Naro-Fominsk House of Culture. After school — a mental hospital. Then — Moscow, apartment exhibitions, the life of an underground artist. By the beginning of Perestroika, "Lenya the Genius from Nara" was already a famous artist. His work is one of the few included in the catalog of the Moscow Sotheby's-88. After success at the auction, Purygin left for the United States. He worked a lot there, famous galleries collaborated with him, but the artist nevertheless returned. In 1995 he died of a heart attack.
ZVEREV Anatoly Timofeevich (1931–1986) Cat with a ball. 1967. Canvas on hardboard, oil. 65 × 63
This time Anatoly Zverev performs in a rare warm decorative genre. A pussycat looking at a ball. That's the case when genius manifests itself in works from which no sparks fly. Only quiet comfort, harmony and melancholic serenity. And yet Zverev is always Zverev. And 1967 is considered a valuable period for a reason. Here one feels both impetuosity and virtuosity, and stunning "graphic" precision. "It has museum value", Valery Silaev writes about this painting in his examination.
NEMUKHIN Vladimir Nikolaevich (1925–2016) Fish. 1978. Embossed and watermarked paper by the French company Canson, oil. 59.5 × 60.5
1973 is a first rarity. The subject without cards is a second rarity. This painting by Vladimir Nemukhin, a member of the Lianozovo group, is considered by connoisseurs to be a research work. In "Fish" he solves not conceptual, but pictorial problems. The artist clearly enjoys the selection of coloristic relationships, compositional search. Nemukhin was lucky. The resulting composition is subtle, harmonious, "French" in spirit. Perhaps the choice of impressionist mood was influenced by the scarcity of French materials. The work is painted in oil on special paper of the Paris company Canson, which was brought to the USSR by collector Galina Makhrova.
LEONOV Pavel Petrovich (1920–2011) Angels arrived at the wedding. Early 2000s. Oil on canvas. 104 × 124
The work of Pavel Leonov is surprisingly consonant with the work of Leonid Purygin. Both are outsiders, both are representatives of naive art. Both have withstood the onslaught of numerous mockers and detractors. And both found the strength to continue building magical romantic worlds.
Pavel Leonov's utopianism was based on the conviction that it was necessary to portray not the life that was around, but the one to which one should aspire. Who needs this truth with rustic ruin and too simple morals? It's sickening enough as it is. No. The villages in Leonov's paintings turned out differently. He decorated them with fountains, let the streetcars go down the village streets and painted exotic overseas animals — giraffes, elephants, llamas — to the delight of the villagers.
His paintings even today fascinate collectors with their sincere kindness and naivety. And in front of us is just one of the best examples of the artist's work: a wedding, a holiday, doves, a church and, of course, newlyweds under the protection of angels.
RUKHIN Evgeny Lvovich (1943–1976) Numbers, signs and tarpaulin. 1976. Canvas, oil, tempera, PVA, epoxy resin, stencil, assemblage. 70 × 66
A complex, multi-faceted assemblage by the legendary St. Petersburg nonconformist Evgeny Rukhin. This is the last year of his life. It was in 1976 that Rukhin would suffocate in his studio in a fire that broke out under suspicious circumstances. That year, the artist worked with inspiration. Many of his works were decorated with characteristic stencils with numbers and rigging signs (two upward arrows indicating the direction for transporting cargo). Rukhin actively uses the ready-made technique, introducing into his compositions found objects — pieces of fabric, scraps of crates and furniture, rope and even toys. He creates fanciful forms from them, which some viewers are entitled to decipher in their own way. For example, the tarpaulin figure in our work reminds someone of a fish.
BIELUTIN Ely Mikhailovich (1925–2012) Power. 2006. Oil on canvas. 120 × 100
The struggle of entities, the intertwining of interests, the opposition of different forces — all this can be seen in the painting "Power" by the legendary Ely Beliutin.
The author needs no introduction. The name of the innovator of the pedagogical system has become a household name. "Bielutin's Studio", "Bielutin's student", "student of the New Reality" — have become almost art-scientific terms. Bielutin himself was a student of Lentulov and Kuznetsov. Falk, Costakis, poets, musicians, scientists visited his house. He is known as the owner of a phenomenal collection of Western European painting, which is still protected by the state. As is often the case, Bielutin's public activity almost overshadowed his role as an independent artist. And at the same time, he remains an outstanding master, the author of his own recognizable style. And the presented canvas is another opportunity to make sure of that.
RUSSIAN ABROAD
BURLIUK David Davidovich (1882–1967) Pier in Brisbane. 1962. Canvas on cardboard, oil. 43 × 50
In 1962, Ella Jaffe Friedas, Burliuk's friend and collector, successfully sold a series of his paintings. On the wave of success, she decided to open her own gallery "Lido" in New York City and began to actively promote the works of David Burliuk — arrange exhibitions and sell. The financial position of the Burliuk family became so strong that they set off on a round-the-world trip with a two-month stay in Australia. There, in the city of Brisbane, Ella Friedas organized his personal exhibition, and Burliuk himself painted in Australia about thirty oil paintings. The newspapers wrote that one of them was purchased by the American Consul in Brisbane. You can read about all this in the book "David Burliuk in America".
Burliuk worked a lot. There is evidence that he painted a picture a day. And even on his travels he did not part with his brush. His foreign paintings are usually made in the postcard style — in bright colors, contrasting, graphically.
Three years later, in 1965, the "Pier in Brisbane" participated in the solo exhibition of David Burliuk at the ACA Gallery in New York. A record of this can be found on p. 437 of Nobert Evdaev's book "David Burliuk in America: materials for biography".
David Burliuk was the father of Russian futurism, an avant-garde artist and a prominent representative of the Russian abroad.