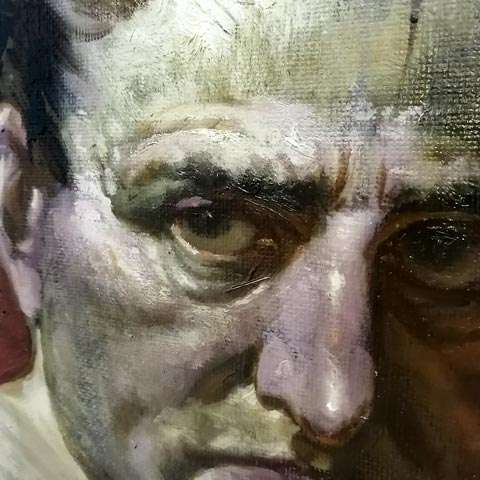 MASTERPIECES
SHULZHENKO Vasily Vladimirovich (1949) Three Napoleons. 2016. Oil on canvas. 180 × 140
Shulzhenko's paintings have a phenomenal effect in practice — they completely capture the attention of any viewer, even those who are not his fans. A visitor can enter a room where ten masterpieces are hanging, but in a minute the main argument will be about Shulzhenko's work. And so it is this time. In front of us is "Three Napoleons". A picture-parable. Three ages of a man. Three stages of destiny of the tyrant. From the ambitious Corsican provincial, artillery lieutenant with a glowing eye to the conqueror of Europe, who unexpectedly broke his fangs at Borodino. And, finally, to the outcast on St. Helena, the "naked king" in the bathtub, who has lost his influence.
Interestingly, Napoleon could theoretically not attack Russia, but defend it. There are reports that he petitioned Catherine II for service. But he changed his mind when he learned that the decree required him to agree to one rank lower than the one at home. He refused and did not regret it. Thanks to his talent, courage, and ambition, Napoleon became Emperor of France at the age of 34. And there was also a turn in history when Napoleon almost became related to the Russian imperial house. In 1808 he asked Alexander I for the hand of his sister Catherine. Alexander supported this dynastic marriage. But Catherine refused to become the wife of the "Corsican monster" and a year later was married to Prince George of Oldenburg. Perhaps at that point the chance for peace in Europe was lost.
Vasily Shulzhenko is one of the most daring artists of the 2000s. He is not afraid of themes or means of expression. For his program work "Latrine" he was accused of almost Russophobia, slandering the national way of life. The artist has withstood the hail of rabid criticism and remained true to himself.
ZVEREV Anatoly Timofeevich (1931–1986) Pushkin. 1966. Paper, black pencil, oil. 50 × 38
This is a portrait from Anatoly Zverev's famous religious-philosophical cycle, for which collectors hunt for works. Connoisseurs and experts consider this series, which included portraits of Judas, Christ, and the prophets, to be one of the pinnacles of the artist's work. This is the result of true inspiration, the work on the ringing string. And of course, in our case, it is the most important theme: Pushkin is our everything. The sun of Russian poetry. By the way, it is still reliably unknown exactly who the author of this phrase is. The newspaper obituary, which began with the words "The sun of Russian poetry has set!" provoked the wrath of the censors. It was not signed. The editor-in-chief Andrei Kraevsky was summoned to the carpet to Count Uvarov — why did the poet receive such honors? Kraevsky took the hit for himself. And in fact there is an opinion that the author of the obituary was Vladimir Odoevsky. This is a symbolic episode: there is some monstrous tradition in Russia of the authorities fighting with talented people. And Zverev felt it fully on himself. They dragged him to the police, beat him, banned exhibitions and, like Count Uvarov, were unhappy if the artist received recognition somewhere. Valery Silaev in his conclusion calls this work a masterpiece. And notes its museum significance.
1960s UNOFFICIAL ART
RABIN Oscar Yakovlevich (1928–2018) Wolves. 2008. Dish, porcelain, overglaze painting. 54 × 42 × 4
This is not just a dish, but a special hunting dish. It is customary to serve the meat of trophy game — elk, wild boar, roe deer — on such a dish. Appreciate the metaphor: meat to wolves, depicted on the porcelain. This dish is made very small edition — 25 copies — at Meissen manufactory in Germany. The project with porcelain from the 1960s  was implemented by the collector Viktor Minchin in the 2000s. Oscar Rabin, according to the collector's recollections, liked the result very much. This is Rabin's only porcelain dish. In other projects, not dishes were used, but rectangular layers onto which sketches of paintings were transferred. So this work is rare in every sense.
BIELUTIN Ely Mikhailovich (1925–2012) Abstract portrait with a red ball. 1974. Oil on canvas. 97 × 73
Bielutin is a man-epoch. And Bielutin's Studio is a historical brand and cultural phenomenon. The studio — school — community — whatever you want to call it — was created in the mid-1950s, during the Khrushchev Thaw. Ely Mikhailovich gathered weekend artists, printers, retouchers, and aspiring artists under his wing, under the auspices of refresher courses. And he began to teach them his method of releasing creative energy. With expression, with spontaneity, with a certain freedom. This was not the norm in the Soviet Union for a long time. Not since the defeat of the avant-garde and the diktat of the doctrine of socialist realism. Bielutin was both adored and hated. It is believed that the studio was deliberately lured to the Manezh in 1962 under the scolding of Khrushchev in order to smash the studio and put an end to dangerous dissent. This eventually succeeded — alas. Bielutin was hounded after all.
Behind all this activity it is sometimes forgotten that Bielutin himself was an outstanding artist, not just an organizer. He is a graduate of the Surikov Institute. He came there from the front, after being shell-shocked. He studied under Lentulov and Kuznetsov. He taught at the Polygraphic Institute. Bielutin's house was famous for its wealth and hospitality. Falk, Kostaki, poets, musicians, scientists came to visit him. Today, Bielutin's apartment, where his widow Nina Moleva lives, is protected by the state. They say there is an outstanding collection of world art, including paintings by Rubens and Titian.
And today we have before us one of Bielutin's strong works of abstractionism. However, in any abstraction by the maestro one can always discern a figurative narrative basis. In front of us is a portrait with a red ball. A soothsayer? A prophet? This is an interesting story. The work was confirmed by the expert Valery Silaev.
YAKOVLEV Vladimir Igorevich (1934–1998) Boy with a flower. 1975. Gouache on paper. 86 × 61
A touching portrait with a red flower. Valuable 1975. For Yakovlev, this is a period of creative dawn — he is just over 30. Illnesses progressed, but the artist had not yet lost his sight, worked hard and inspired. High quality of performance, a successful positive subject, large size — all indicating a high collector's value. The work is accompanied by the confirmation of Valery Silaev on the photo, recently it was shown again to the expert, there is no doubt about the authorship of Yakovlev.
CONTEMPORARY ART
GINTOVT Alexey Yurievich (1965) Star. 2021. Canvas, mixed technique. 100 × 100
This theme is well known to connoisseurs of contemporary art. A star for Gintovt is a can of Campbell's soup for Warhol. There are several stars, but this is the last one. There won't be any more of these; the stencil used to make this series has served its time.
Gintovt is an irritant artist. He acts like a red rag on a bull on many members of the art community. For his political views, for his Eurasianism, for his disdain for political correctness. When he was awarded the Kandinsky Prize in 2008, one of the groups in the audience shouted: "Shame on the jury!" I haven't seen new works by those who shouted in a long time. And Gintovt makes series after series.
In the late 1980s, Alexey Belyaev-Gintovt was an informalist, a member of Timur Novikov's circle, and a friend of Kuryokhin, Tsoi, and Garkusha. It was Timur Novikov who formulated the idea of "the future is in the past", which Gintovt has been developing for 30 years now. And this Kremlin star is the brightest metaphor of that idea.
RUSSIAN ABROAD
YAKUNCHIKOVA Maria Vasilievna (1870–1902) Street in the snow, Meudon. 1893. Canvas on board; oil. 46.7 × 39
"If Yakunchikova had lived ten years longer, the pantheon of great Russian modernists would have started with her name," Vedomosti wrote after Maria Yakunchikova's retrospective at the Tretyakov Gallery in 2020. An outstanding Russian symbolist and innovator of decorative pictorial techniques, she lived a bright but short life. Maria Yakunchikova died in Switzerland in 1902, she was only 32 years old. Her obituary was written by Sergei Diaghilev. It was published in the magazine "World of Art", with which she collaborated and the cover of which was decorated with her "Swan".
Today in the Tretyakov Gallery you can see her works "From the window of the old house. Vvedenskoye", "Fear", "Church of the old estate Cheryomushki near Moscow". Yakunchikova's paintings can be seen in the exposition of the Russian Museum and the Museum-Estate of V. D. Polenov. After her death, a significant part of her work remained in Switzerland with her husband, a Russian-born doctor named Weber.
Yakunchikova was related to the Polenovs and Mamontovs and spent her youth in an artistic environment. She loved Russian landscapes, churches and architecture, but most of her works were painted in France and Switzerland. Yakunchikova became an artist of the Russian abroad willy-nilly. At 18, she was diagnosed with tuberculosis, and doctors recommended an urgent change of climate. In France she attended the Académie Julian and participated in the Parisian Salons. In 1900, Yakunchikova was the organizer of the Artisan Department of the Russian pavilion at the 1900 World's Fair in Paris. The artist came to Russia only for a short time. And, of course, from 1899 to 1902 she was a regular exhibitor at the "World of Art" exhibitions. Sergei Diaghilev dedicated the following words to Yakunchikova: "She was a typical Russian woman with a typical Russian talent, but she was forced to live most of her life abroad. For creative powers she came to Russia for a while, gained "Russian spirit" and had to fly back again. In Paris, she worked on the views of the Trinity-Sergius Lavra."
But in Russia she was highly appreciated and loved. Benois, Diaghilev, Somov, Voloshin, Borisov-Musatov spoke highly of her works and creative experiments. It is no coincidence that Yakunchikova is considered the forerunner of "Blue Rose". She surely would have graced this artistic association. But she did not live to see it. The first exhibition "Blue Rose" was held two years after the artist's death.
Our painting depicts a view of Meudon, a suburb of Paris. The work comes from the family of Yakunchikova-Weber's heirs and has been published more than once in Mikhail Kiselev's monographs on the artist. The canvas was purchased at the Christies auction in 2012.
BURLIUK David Davidovich (1882–1967) Bather in the park. 1945. Lead pencil, ink, pen, watercolor, whitewash on paper. 39.4 × 28.3
David Burliuk's tactful nude. Chaste, subtle, touching. This is the American period of the father of Russian futurism. 1945. The drawing is made at the junction of primitivist manner with elements of symbolism. The work is accompanied by the expertise of Valery Silaev.