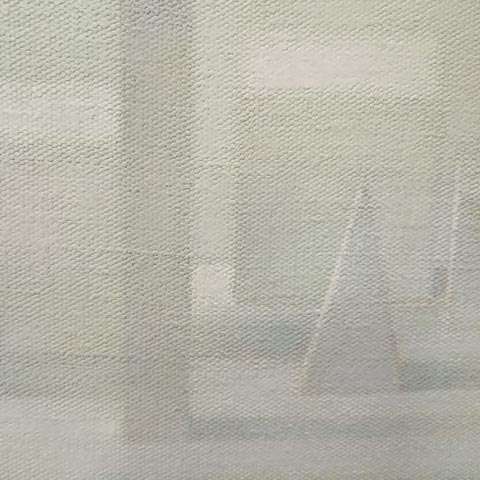 MASTERPIECES
WEISBERG Vladimir Grigorievich (1924–1985) Cubes and other figures. 1978. Oil on canvas. 54 × 57
Weisberg formulated his credo simply: "I study the palette". And when asked about his place in contemporary art, he answered that "all I have in common with my contemporaries is a wall". And that's pretty apt. Yes, he was friends with Nemukhin and Rabin, participated in apartment exhibitions. He was close to the artists of the underground. But this did not prevent him from being a member of the Moscow Union of Artists, as well as many and often exhibiting in official halls. Weisberg stood apart. He didn't choose a side. The main thing for him was his own world. Color was his religion. And his temple was a room in a communal apartment on the Arbat, painted all white and turned into a studio. Where only the closest associates were admitted.
The Moscow metaphysicist, colorist, author of his own theory of color was called "Russian Morandi", and his artistic construction was called "white on white" or "invisible painting". Indeed, his still lifes with objects emerging from the haze seem to be painted with only white paint of slightly different shades. But in fact, Weisberg did not use pure white color, only in complex unique combinations. As a perfectionist, an artist of tradition, he worked using a complex technology, bringing himself to exhaustion, to nervous breakdowns, to mental hospitals. After a session of "white on white", he would lock himself in the dark and close his eyes so that the white would stop pulsating.
The painting "Cubes and other figures" is a masterpiece of the most valuable period in the artist's work. The first still life, painted by him in 1978. The title of the painting is in the complete list of Weisberg's paintings published in the monograph by Elena Khlopina "In love with classical art. Painting by V. G. Weisberg in the tradition of colorism".
CHEMIAKINE Mikhail Mikhailovich (1943) Still life IV. 1967–1991. Oil on canvas. 89 × 114.5
A spectacular, large-scale, more than a meter wide still life in the unmistakable manner of Chemiakine. With gradients, with a special texture. Chemiakine is also an artist of tradition at heart. He, like an alchemist, is extremely attentive to technology in his painting. He has his own recipes, which even venerable restorers are unable to unravel and repeat.
Today Mikhail Chemiakine is one of the most famous Russian artists in the world, the pride of Russian art. It is already forgotten that in 1971 he was forced to leave the USSR: exhibitions were banned, he was kicked out of work, punitive psychiatry tactics were used. As a result, the artist made his first large-scale projects in France and the United States.
"Still life IV" was purchased at Sotheby's. And before that it was in the collection of a collector who bought it in New York in the 1990s. Well, this painting was conceived back in Soviet Leningrad. This is indicated by the first date in the lower right corner — 1967.
GRIGORIEV Boris Dmitrievich (1886–1939) Portrait of a man. 1935. Cardboard, gouache. 55.9 × 38.1
This is a philosophical psychological portrait by Boris Grigoriev, in his signature recognizable manner. The artist did not have mercy upon his models — he sacrificed beauty and sometimes even portrait likeness for the sake of conveying energy and broadcasting the context of the work. 1935 is the year when Grigoriev already lived in France. Two years after the revolution, he and his family crossed the Gulf of Finland by boat to get to Europe. Today Grigoriev is one of the most expensive Russian artists. His auction record is $ 3.7 million. Our "Portrait of a Man" also has an auction history — it was exhibited at Sotheby's in 2004. The work is published in the monograph "Boris Dmitrievich Grigoriev" by Tamara Galeeva.
1960s UNOFFICIAL ART
SPINDLER Marlene Pavlovich (1931–2003) Urban Landscape. 1978. Oil on canvas. 77 × 68
A personal retrospective at the Tretyakov Gallery, large catalogs, important private collections are all the attributes of not just a successful artist, but a well-to-do man. But no. The latter is not about the 1960s artist Marlene Spindler. Although life success and prosperity was close at hand. In the 1960s, Spindler worked as a designer at the Combine of Decorative and Applied Art, together with the famous "hierat" Mikhail Shvartsman. They were friends and exchanged creative ideas. Even their works of those years bear similarities. But Spindler's explosive character led not only to a quarrel with Shvartsman, but also to three convictions, long years in prisons and camps and shattered health. Marlene Spindler was already in a wheelchair when he received public recognition. But by that time he had managed to complete his mission as an artist. His works were included in important collections. Spindler's paintings are presented in the Tretyakov Gallery along with his friends and foes of the Thaw.
BULATOV Erik Vladimirovich (1933) No Entry. 2009. Print on canvas. 51 × 50
This work is a creative experiment by Erik Bulatov. It is not a painting, but a print on canvas. Executed in a single copy and signed by the author. This work is based on a conceptual drawing from 1976 — this is indicated on the back by Erik Bulatov himself.
In the 1970s, Erik Bulatov was a member of the Sretensky Boulevard group. His associates were Kabakov, Vasiliev, and Yankilevsky. It was in the mid-1970s that his program works appeared, including "Soviet Space" and "Glory to the CPSU" (the second most expensive work among living artists). "No Entry" is a warning, a slogan and a profound metaphor of the time. Prohibitions, restrictions, hypocritical "special service" and "order desks" are shameful signs of the USSR of 45 years ago. Which some continue to pine over for some reason.
CONTEMPORARY ART
GINTOVT Alexey Yurievich (1965) Spring. Diptych. 2021. Two tondos. Canvas, author's technique. Diameter 30 cm (each)
The diptych is called «Spring». A philosophical thing. With the spirit of the times. We see the signature skull and planet Melancholy, reminiscent of the coronavirus. The work was done in 2021 — in the days when the victory over the pandemic seems to be just around the corner. Such is the symbolic «Spring» — a symbol of hope and return to a peaceful life.
Alexey Gintovt, an architect with a degree in architecture, joined the informals during the perestroika period. Over time, Timur Novikov, Sergey Kuryokhin, and Oleg Garkusha became his friends. The slogan "The Future is in the Past", the concept of returning to the majestic classics — this idea was formulated by Timur Novikov more than 30 years ago. But today it is firmly associated with Gintovt's work. His images represent a future with unimaginable parades, with loud victories, with a demonstration of the incredible power of the state. For this, the artist has been under a barrage of criticism for 30 years. But his works are in great demand. Clear, concise, with a clear message — exactly what collectors appreciate.
1960s UNOFFICIAL ART
MAYOROV Igor Evgenievich (1946–1991) Nude on a chair. From the cycle "Night Butterflies". 1980s. Paper, ink, whitewash, mixed technique. 44 × 33.5
For the first time. That same scandalous Igor Mayorov. He is remembered not least for the fakes of Zverev, which were called "Mayorov's". And "Mayor" himself — "St. Petersburg Zverev". By the way, his works are not similar to Zverev. Determined at a glance. And what is there more — malice or parody courage — everyone decides for himself.
The story with Zverev gets in the way anyway. After all, Mayorov had a large stratum of independent creativity. By the way, Zverev and Mayorov knew each other, they met in St. Petersburg. With Zverev they were similar not only in appearance. Both drank heavily, both worked heavily. Mayorov, like Zverev, could paint dozens of gouaches in a night, which he would then sell and give away. As with Zverev, Mayorov's talent was noticed by teachers as a child. A pupil of the district Pioneer House, Mayorov won the Children's Drawing Contest in India in 1957. He entered the school named after Serov, he studied with Marina Time-Blok. But one day his life went downhill. At the age of 17, he went to jail. At the request of his mother, he took the blame of his weaker brother. He got three years for hooliganism. After his release, it was binge drinking, fights, murder by negligence, prison again. But in between, there were years of fruitful work. Mayorov's portraits with the signature Morya or Mayor were purchased by famous collections. In particular, his psychological portrait of Beethoven was in the collection of Mstislav Rostropovich.
But today we have a portrait from another series. This is Mayorov's "Night Butterflies". Laconic, impetuous, and very recognizable graphics.
LUBENNIKOV Ivan Leonidovich (1951) Portrait of a Woman. 2002. Oil on canvas. 38.5 × 18.5
And again, the heir to the Soviet tradition, a monumentalist. In 2012, Ivan Lubennikov was awarded the Government Prize for the design of the Moscow metro stations Mayakovskaya, Sretensky Boulevard and Slavyansky Boulevard. The mosaics on the ceiling in the new entrance hall of Mayakovskaya with quotations of the poet are just by Lubennikov. And "Theatre on Taganka", or more precisely the view of the building from the outside, is also an artistic solution by Ivan Lubennikov. However, most connoisseurs know him for his picturesque still lifes and alluring female images, which feature Kustodiev, Botero and Samokhvalov at the same time. However, our portrait of a woman will not evoke sanctimonious feelings It is compact and modest — it will easily find a place even in a large and cramped collection.