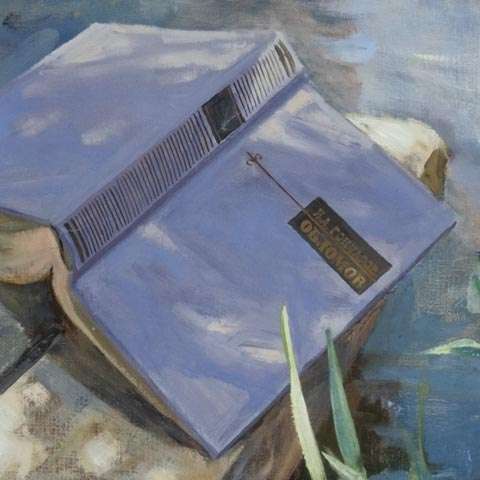 MASTERPIECES
VINOGRADOV Alexander (1963) and DUBOSARSKY Vladimir (1964) Oblomov. 1996. Oil on canvas. 120 × 120
1996 — the golden period of the famous duo Vinogradov-Dubosarsky, when they split the community of connoisseurs. Some considered them deliberately kitsch artists, almost opportunists to please the tastes of merchants. And they were definitely considered art hooligans. Well, what else to think? Either they have an orgy at the Soviet "Harvest Festival", then Christ goes to meet sinners along the Moscow streets, then Schwarzenegger-Terminator will settle down with a cigar in the Russian field. Some of their paintings, even after thirty years, the owners do not dare to exhibit publicly — they fear that they will not understand. Although the times cannot be compared and we have seen everything! However, provocative stories are only the upper layer. Knowledgeable people, on the contrary, noted the thoughtful conceptual irony of Vinogradov and Dubosarsky and predicted the role of the duo as spokesmen for the spirit of all the 1990s. Now, at a distance, it is clear that they were right. The understanding came that the ideas of "total painting" and "bespoke art" are much deeper than grotesque absurdist realism. Today Vinogradov and Dubosarsky are already in textbooks as classics of contemporary art. Their works are presented in important collections and in leading museums of the country.
And before us today is not a hooligan thing. Without eroticism and revelry. On the contrary, it is chaste. A white swan on a pond, and a book. And the book is not simple, but a volume of "Oblomov" by Ivan Goncharov. Not only is it an eternally relevant literary work. It is also a kind of symbol of the nineties — the time of active winners-stoltses and not fitted into life oblomovs.
BELENOK Petr Ivanovich (1938–1991) A warning to the young. 1970. Oil on hardboard, author's technique. 87.5 × 71
An early philosophical work by the acclaimed master of panic realism. Experienced members of the Secret Society of Art Connoisseurs will immediately pay attention to the unusual plot. They will ask: where is the panic? Where is catastrophism? Where are the anomalies? This is not the case, because we are looking at the early period — Belenok 1970. The idea is different, but no less powerful. This is a warning to future generations sent 50 years ago. It will be interesting to decipher it. But, probably, this is advice to young people to strive upward, to quickly break out of the gray routine. Please note that the work has a signature and date, but they are in an unusual place — to the right of the horizon.
Recall who Petr Belenok is. The artist was a successful provincial sculptor in Ukraine. He sculpted busts of Lenin, designed district councils and city committees. A comfortable environment, orders and a well-fed life in which there was everything except the future in the history of art. Many would have resigned themselves to such a situation, would not seek from good for good. But Belenok found the strength to break this circle. He moved to Moscow and, finally, began to do what he dreamed of. Yes, the price paid for creative independence was high. In Moscow, Belenok lived in poverty, did not exhibit, worked only for himself and for a narrow circle of connoisseurs. Today collectors are fighting for his paintings, and the ideas formulated 50 years ago turn out to be strikingly prophetic.
STEINBERG Eduard Arkadevich (1937–2012) Composition (Earth. April — 1990). 1990. Oil on canvas. 108 × 86
Synthesis of Russian Symbolism and Suprematism. Metaphysical geometry. Diary painting. Plus Steinberg's favorite philosophical "soil" theme and dialogue with the first Russian avant-garde. Classic for the author, extremely recognizable work. And also published. The painting took part in the exhibition "Russian Art. From Borovikovsky to Kabakov", which took place in the Manezh in 2016. Eduard Steinberg was close to the unofficial Sretensky Boulevard Group, which included Kabakov, Bulatov, Sooster, Yankilevsky. His first resonant exhibition, dispersed by the authorities, was held at the House of Culture in Tarusa in 1961. Later Steinberg took part in a high-profile exhibition organized by Glezer in the Druzhba Palace of Culture in 1967 and in the exhibition in the Beekeeping Pavilion in 1975 at VDNKh. Steinberg left in 1988 for Germany and then France.There he was represented by the Claude Bernard Gallery. In recent years, Steinberg lived in two cities: in winter in Paris, and in summer in his beloved Tarusa. Now a museum is organized in Tarusa — the workshop of Eduard Steiberg, under the auspices of the Pushkin Museum.
WEISBERG Vladimir Grigorievich (1924–1985) Cube, ball, pyramid. 1973. Oil on canvas. 55 × 57
This picture must be looked at correctly. Gray-white under normal lighting, it flares up and comes to life, as soon as you direct light at it. Amazing work. Painting of the most valuable period of one of the most expensive artists of unofficial post-war art. The auction record for paintings by Vladimir Weisberg is $ 363,000. A man of mystical consciousness, Weisberg, for completeness of immersion, worked in a workshop with white walls with white objects arranged. Exhausting work with subtle "indistinguishable" shades brought the artist to exhaustion. His "white on white" is a complex composite color, extremely painstaking work based on his own philosophy of color cognition of the world, on the mysticism of color perception.
KRASNOPEVTSEV Dmitry Mikhailovich (1925–1995) Red leaves in a bowl. 1964. Oil on hardboard. 53 × 50.8
The exemplary Krasnopevtsev of a particularly valuable period is no longer a transitional one, but precisely in the color scheme for which collectors are hunting. Dmitry Krasnopevtsev is one of the most expensive and famous artists of unofficial art. Once the price for his painting at the world's leading auction nearly tested the million dollar mark. Despite his unofficial status (he earned his living as an artist of "Reklamfilm"), Krasnopevtsev was successful during his lifetime. His paintings were bought by Richter, Kostaki, and foreign diplomats. From the USSR, they spread all over the world, so they are sometimes bought even in Latin America. The artist himself did not manage to see the world, and he never visited the coveted Paris, the map of which he had learned by heart. But Krasnopevtsev created his own world — a magic kingdom, where volume appears without a shadow, all objects are in balance and colors are in harmony.
PEPPERSTEIN Pavel (1966) Sex. Watercolor on paper. 61 × 93
One of the main Russian artists of the 2000s. Well, who else could you grow up if your father is conceptualist Viktor Pivovarov, and your friends in games are Kabakov and Monastyrsky. In the late 1980s, Pepperstein, Anufriev and Leiderman organized the group "Inspection Medical Hermeneutics". In the late 1990s, their postmodern novel, "The Mythogenic Love of Castes", became one of the most discussed works. In 2014, Pepperstein received the Kandinsky Prize for the sarcastic and prophetic cycle "Holy Politics".
And today we have a meter-sized graphics on an eternal theme. Brave in vocabulary — but that's okay. It will never lose its relevance.
VLADIMIR SCHOOL
KOKURIN Valery Grigorievich (1930–2019) Apple trees in bloom. 1999. Oil on cardboard. 40 × 45
Valery Kokurin is one of the three whales of the Vladimir school of painting, along with Yukin and Britov. The Vladimirs thundered in 1960, after the exhibition "Soviet Russia", after which young and outstanding authors were strongly criticized for lack of ideology. Up to threats to expel from the Union of Artists. But this is at first. Then they figured it out at the top, the artists were given Komsomol prizes, and their exhibition activities were not strongly hindered.
"Apple trees in bloom" by Kokurin is a bright and characteristic work of "Vladimir impressionism". The artist's works are presented in the Tretyakov Gallery, the Russian Museum and important private collections.
1960s UNOFFICIAL ART
ZVEREV Anatoly Timofeevich (1931–1986) Swallow. 1986. Hardboard, oil. 84 × 122
Zverev loved to paint birds and animals. In his youth, he spent many hours with a notebook in the Moscow zoo. And as many as I have seen — cats, birds — works are very inspirational, creative luck. But usually these are chamber works, but here is the gigantic size — more than 120 cm. "Swallow" has an impeccable provenance, it comes from the collection of Pravova, published in the album "Anatoly Zverev" 1991 and is accompanied by the expertise of Valery Silaev.
ZUBAREV Vladislav Konstantinovich (1937–2013) Fact-time. Genesis. 1997. Oil on canvas. 144 × 100
A large, charged canvas. You can't miss it with your eyes.
This is Vladislav Zubarev, the founder of the "Temporal Reality" school, former colleague and student of Ely Bielutin. After Zubarev set off on an independent voyage, the philosophy of time became the object of his creative searches. He was interested in the relationship between instant and eternity, time distortions, its paradoxes. And, please note, our work is called "Fact-time" — that is, the most important topic of the artist, the most valuable. The moment and time for purchase are the most appropriate. Good luck with your bidding!